Gluten-Free Almost No Fat Vegan Brownies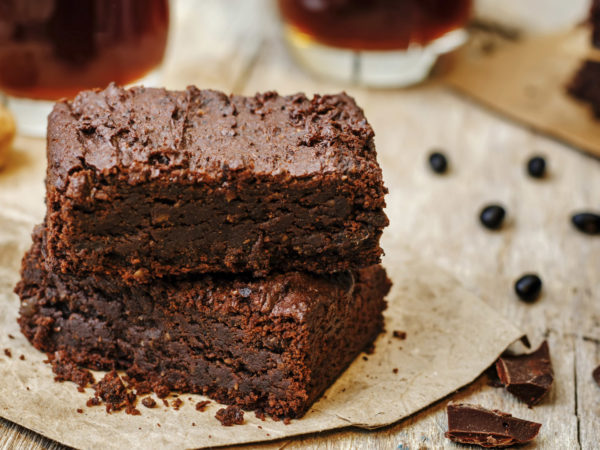 Nutrition
Makes 12 brownies
Recipe from "The Almost No-Fat Holiday Cookbook" by Bryanna Clark Grogan
These brownies are a delicious, healthy, high-fiber indulgence. Vegans and omnivores alike will enjoy their rich flavor.
Chocolatey and rich and everything a brownie should aspire to be. Made with gluten-free high-fiber flour and a touch of coffee to deepen the taste.
Food as Medicine
Soy foods may be helpful in alleviating symptoms of menopause. Soy is also high in calcium, which can help slow the accelerated bone loss many women experience as they grow older.
Ingredients
1 cup Sucanat, Rapadura or brown sugar
4 oz. (½cup) medium-firm tofu or firm or extra-firm silken tofu (1/3 of a box)
¼ cup water (can be part liqueur of choice, such as Kahlua)
4 teaspoons powdered egg replacer
1 tablespoon coffee (or coffee substitute) granules or espresso powder
1 tablespoon vanilla
1 ½ teaspoons vinegar
½ cup unsweetened cocoa (or carob powder, if you insist)
⅓ cup Bryanna's Gluten-Free High-Fiber Flour (see below*)
½ teaspoon salt
½ teaspoon baking powder
½ teaspoon baking soda
Higher-fat option: ½ cup chopped nuts
Instructions
1. Preheat the oven to 350°  F.
2. In a blender or food processor mix until smooth the sugar, tofu, water, egg replacer, coffee granules, vanilla, and vinegar.
3. In a medium bowl whisk together the cocoa, flour, salt, baking powder and soda. Add the cocoa mixture and mix briefly. Add nuts, if using.
4. Pour the mixture into a nonstick or lightly-oiled or sprayed 9″ square cake pan. Spread evenly. Bake 25 minutes. Cool on a rack in the pan, then cut into 12 bars.
*Bryanna's Gluten-Free High-Fiber Flour Mix
Makes about 13 cups
7 ½ cups brown rice flour
2 ½ cups potato starch
1 ¼ cups tapioca flour
1 cup ground flax seed
1 cup chickpea flour or soy flour
4 and ½ tablespoons xanthan or guar gum (see note below)
Mix well and store in a moisture-proof container in in the freezer. Use cup-for-cup instead of regular flour.
NOTE:
Because non-gluten flours lack the structure that gluten provides, xanthan gum or guar gum (available in health food stores) is often added to gluten-free baked goods. This mixture contains enough xanthan or guar gum for cakes, cookies, pancakes and quick breads. For yeast breads, you may have to add up to 1 teaspoons more gum per cup of gluten-free flour.