What Is The Anti-Inflammatory Diet And Food Pyramid?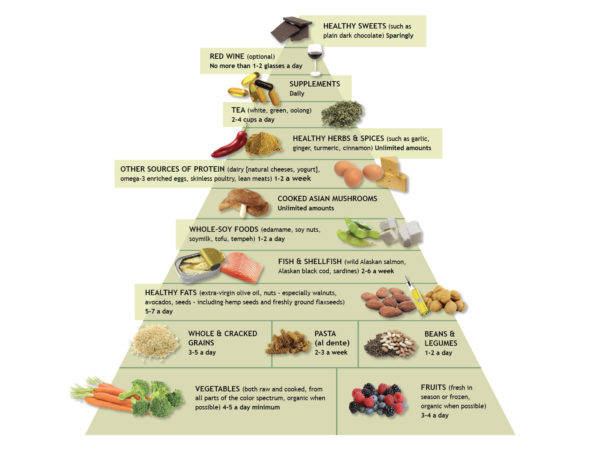 | | |
| --- | --- |
| "Following an anti-inflammatory diet can help counteract the chronic inflammation that is a root cause of many serious diseases, including those that become more frequent as people age. It is a way of selecting and preparing foods based on science that can help people achieve and maintain optimum health over their lifetime." | |

What Is Dr. Weil's Anti-Inflammatory Diet And Food Pyramid?
The anti-inflammatory diet and food pyramid is based on Dr. Weil's Anti-Inflammatory Diet (sometimes referred to as the anti inflammatory diet or anti-inflammation diet). It was designed as:
A practical eating guide that consumers of all ages can use, with tips on how to reduce risks of age-related diseases and improve overall health through diet.
An interactive educational graphic to help today's families prevent disease while eating well.
A simple tool that promotes optimum health and healthy aging by providing dietary advice that addresses inflammation.
What Does An Anti-Inflammatory Diet Do?
The anti-inflammatory diet is a blueprint for a lifetime of optimum nutrition. Simple changes in how you eat can help counteract chronic inflammation, a root cause of many serious diseases, including:
Why Are Spices An Important Part Of The Anti-Inflammatory Diet? 
Spices can be more that just flavorful additions to meals – that can provide health benefits as well. Watch Dr. Weil discuss two spices that are part of the Anti-Inflammatory Diet And Food Pyramid:
Click the play button on the video below.
Top 10 Anti-Inflammatory Foods
It is simple to start eating an anti-inflammatory diet – start with these common foods:
Dark, leafy greens such as spinach or kale
Cruciferous vegetables such as cabbage and broccoli
Berries, including blueberries, raspberries and strawberries
Black beans
Lentils
Whole grains, such as brown rice and quinoa
Wild Alaskan salmon
Edamame
Asian and wild mushrooms
Tea, including green tea
5 Ways To Start Dr. Weil's Anti-Inflammatory Diet
Getting started on the Anti-Inflammatory Diet can be simple – follow these five suggestions:
Eating Anti-Inflammatory Step 1: Find Out How Much You Follow This Diet
Find out if your diet is helping to protect and promote your health – take Dr. Weil's Anti-Inflammatory Diet Quiz today.
Eating Anti-Inflammatory Step 2: Shopping Suggestions
On your next grocery trip, shop for anti-inflammatory foods with these six suggestions on how to navigate the store and what to choose.
Eating Anti-Inflammatory Step 3: How Healthy Is Your Refrigerator?
Learn what to get rid of and what to replace with this simple list on cleaning out your refrigerator.
Eating Anti-Inflammatory Step 4: Tackling The Pantry
These five simple steps can move your pantry from the less-than-healthful category to one that is stocked with anti-inflammatory foods. See what Dr. Weil suggests you toss and replace in your pantry.
Eating Anti-Inflammatory Step 5: Understanding What You Are Eating
This list of 14 ingredients should have no part in your anti-inflammatory food shopping – see what to avoid.
4 Healthy Anti-Inflammatory Recipes
Want to start cooking anti-inflammatory recipes at home? Try these four – each are simple, delicious and healthful ways to get more anti-inflammatory foods into your meal planning.
Don't miss what Dr. Weil has to say about his four favorite foods that help combat inflammation. From berries to ginger, see why these four top his list.
The Anti-Inflammatory Diet on Dr. Weil on Healthy Aging
Dr. Weil on Healthy Aging is Your Online Guide to the Anti-Inflammatory Diet. Your 14-day free trial includes access to:
An exclusive version of the food pyramid with direct links to recipes for anti-inflammatory foods that use the recommended examples
Anti-inflammatory diet eating and shopping guides
Hundreds of recipes that follow the anti-inflammatory diet principles
Exclusive videos featuring Dr. Weil discussing nutrition
Seasonal food guides, and more
What Dr. Weil on Healthy Aging members are saying:
I have tried the anti-inflammatory diet, and it is healing my body more than medicine and even exercise. It's amazing how nutrition has much more effect on healing in many cases. I just didn't know if using these seeds would stagnate my healing process, and if I should maybe reintroduce them after my body has come closer to healing."
~ Jeremias
"I try to follow the Anti-Inflammatory diet as much as I can. I tell everyone I know about it. I notice when I stray from the Anti-Inflammatory too much I get agitated and I don't feel as healthy."
~ Melanie
Begin your 14-day free trial of Dr. Weil on Healthy Aging today, and save 30% when you join!