Stocking The Pantry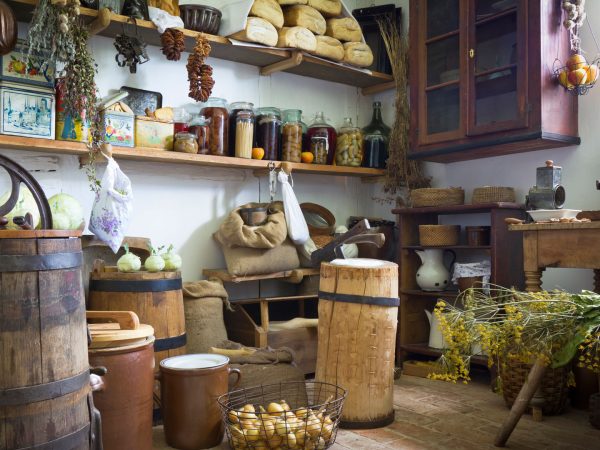 In general, most all of my recipes call for ingredients that are readily available, but occasionally you'll come across something that has to be bought in a specialty store, such as an Asian, Middle Eastern, or health food market. In those instances I have alerted you and indicated where the item is to be found. But there are certain ingredients that I use frequently which you will want to have on hand when you want to make a healthy recipe from DrWeil.com. So let's stock the pantry before we begin.

Oils

Toasted-sesame oil and olive oil are essential for sautéing and adding flavor and texture to a dish. Grape seed oil and walnut oil are optional but good to have for salad dressings and for sautéing, particularly grape seed because of its high smoke threshold. Note that we always call for toasted-sesame oil, which is the Asian variety but it is readily available these days in supermarkets. Store oils in a cool, dark place and don't buy more than you can use up in a month or so.

Asian Products

Soy sauce – We always call for a natural soy sauce, such as tamari, which are available at supermarkets. Get a good supply; it keeps indefinitely.
Mirin – A sweet, low-alcohol rice wine that adds an aromatic flavor to many dishes. Probably available at most supermarkets, but you may have to get it at an Asian grocery store. Keeps well, unrefrigerated.
Rice vinegar – Milder than Western-style vinegars, although you could substitute apple cider vinegar. Available at most supermarkets these days; otherwise try an Asian market.
Coconut milk – Available in cans in most supermarkets. Store in a lidded jar and refrigerate after opening; keeps for up to ten days.
Wasabi – This is a fiery root-herb that resembles horseradish, although it is not related to it. It is used frequently in Japanese dishes. Available in specialty and Asian stores in either powder or paste form. Use sparingly. Refrigerate well-sealed after opening.
Miso paste – Made from soybeans. Available in Asian grocery stores. Organic, brown-rice miso or light yellow preferred. Refrigerate after opening. Keeps a long time.

Pasta

I have recipes using buckwheat and bean-thread noodles as well as Italian style pasta. Look for the former in Asian grocery stores.

Rice & Grains

You'll need brown, basmati, jasmine, and (optional) wild rice. Also, quinoa, bulgur wheat, cornmeal, couscous, oat bran, and millet. All these are best bought at a health food store where you can get organic products; buy them in bulk if you have a big household and are going to use them a lot, and store them in tightly sealed jars on the pantry shelf, except during very hot, humid weather when you might want to refrigerate the grains.

Flour

I use both all-purpose white flour and whole-wheat flour as well as whole-wheat pastry flour. Pastry flour is a high-starch, fine-textured flour that makes delicate pastries and cakes.

Nuts & Seeds

Walnuts, almonds, pine nuts, sesame seeds, and sunflower seeds are frequently used. Try to get organic nuts and seeds in health food stores and keep them tightly sealed, in the refrigerator or freezer.

Herbs & Aromatics

Some herbs are so much better when used fresh that it is worth growing your own. But some keep their character and aroma very well when dried, and I would recommend that you have the following dried herbs on hand:

Dried basil loses a lot of its character but when combined with seasonings as in a Cajun mixture, it is acceptable. Keep your fresh herbs in tightly sealed jars in a cool, dark place, preferably the refrigerator. Dried herbs do not have to be refrigerated. Replace them when they lose their bloom (your nose is your best guide); if they've lost their aroma, throw them out.

Seasonings & Spices

Again, if you cook a lot, you may want to buy the spices you use most frequently in bulk at a health food store. Store in tightly sealed containers in the refrigerator.

Italian seasoning:
I call for this quite a lot. If you don't have it on hand, you can make up a batch by crushing and mixing together 1 teaspoon sage, 1 tablespoon thyme, and 1 tablespoon oregano.

Mexican seasoning:
You can buy this in a jar or make your own by combining 1 tablespoon garlic powder, 1 tablespoon cumin, and 1/2 teaspoon each black pepper, paprika, onion, and crushed thyme.

Cajun spice blend:
Available in jars or make your own by mixing 1 tablespoon paprika, 1/2 tablespoon cayenne pepper, 1 tablespoon salt, 1/2 tablespoon oregano, 1/2 tablespoon basil.

Curry powder:
Indian cooks would mix their own but since it is made up of about twenty spices, I recommend that you buy a good prepared brand.

Turmeric:
One of the principal spices that go into curry, it is what produces the deep yellow-orange color; it can be a little bitter if you use too much.

Saffron:
Very expensive, but a little goes a long way and gives a dish a deep yellow color and a subtle flavor.

Cumin:
A spice that gives a distinct flavor to Mexican foods, which I use to give a kick to all kinds of dishes.

Chili pepper:
You can buy it powdered, as cayenne, red pepper, or chili powder; as flakes; as chili oil; or as chili paste (the latter should be kept in the refrigerator after opening). If you don't have exactly what is called for you can use the above interchangeably, but it is hard to give exact measurement equivalents, so you will have to let your tastebuds guide you. Add a little, taste, and then use more if you like it hot. Paprika: A Hungarian sweet chili powder that gives subtle flavor and brilliant color.

Fennel:
A spice with a licorice flavor (but not as sugary sweet as licorice suggests). It is better to buy it whole and grind or crush it as needed. (I call for it sprinkled on tofu and on some vegetables.)

Cinnamon, ginger, cloves, nutmeg, and allspice:
These aren't just limited to sweets and baked goods in our recipes, so you'll want to have them on hand to add interesting flavor to some sauces, soups, and stews. Unless used in baking, the ginger we call for is fresh ginger root and it should always be available in the vegetable drawer of your refrigerator. (Allspice is aptly named because it tastes like cinnamon, cloves, and nutmeg combined.) Nutmeg should be bought whole so you can grate it fresh (the small holes of any grater will do) because once powdered it loses its flavor rapidly. Freshly grated nutmeg perfumes not only sweets but many a savory dish of ours.

Sweeteners

When you want to sweeten desserts or drinks, sugar isn't the only way to go. I use honey, maple syrup, crystallized ginger, and natural fruit perserves.

Onions & Garlic

Fresh is always best. I use these aromatics a lot, so be sure to have them in your vegetable bin (no need to refrigerate). Avoid powdered onion and garlic in any form and never buy the peeled and sometimes chopped garlic you find in jars at supermarkets these days. It's easy to peel a clove of garlic: just smash it with the flat side of a big knife and the skin will split so that it can be pulled off. If you don't like the smell of garlic on your hands, rub some salt on them to remove it.

Fruits

Always try to have lemons, oranges and limes when in season in your refrigerator. I use them a lot in my recipes. It is also useful to have dried fruits on hand, such as mangoes, apricots, figs, currants, and golden raisins, which keep well in tightly sealed plastic bags.