Too Much Vitamin B12?
Can you take too much vitamin B12? I'm taking 5,000 mcg, but lately have been feeling very tired with no motivation. Could the B12 be responsible?
Andrew Weil, M.D. | May 16, 2018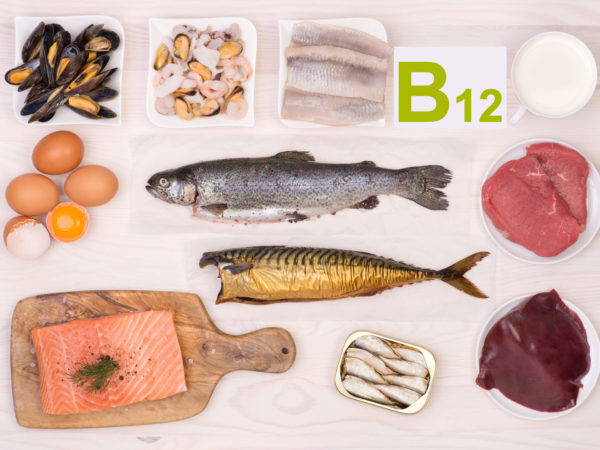 Vitamin B12 is found in meat, poultry, fish, eggs and dairy products. Also known as cyanocobalamin, vitamin B12 is a water-soluble vitamin that helps maintain red blood and nerve cells and is needed to make DNA. It also may help prevent hearing loss and cognitive decline by increasing blood flow to the inner ear and brain.
It is unlikely that the symptoms you describe are related to your intake of B12. The only adverse effect of high dosages of this vitamin, (when taken along with vitamin B6), is a two- to four-times increased risk of lung cancer, particularly among men who smoke. This was seen in a study from the Ohio State University Comprehensive Cancer Center published in 2017. The cancer risk was linked to taking the two supplements for 10 years. (Women in the study who took high doses of these vitamins were not similarly affected.) However, because the study was observational, it showed only an association between long-term use of the two vitamins and lung cancer, not proof that taking them caused the disease.
Only a small percentage of oral B12 supplements is absorbed. For this reason, the U.S. Food and Nutrition Board has not set an upper limit on B12 intake.
I would be more concerned about B12 deficiency. Symptoms include fatigue, memory loss, balance problems, constipation and depression.
The older you are, the less well you absorb B12 from foods, in part because decreased stomach acid, common in those over the age of 50, hinders separation of the vitamin from protein in meat and other animal products. Long-term use of over-the-counter or prescription drugs that suppress stomach acid (proton-pump inhibitors [PPIs] and H2 blockers [H2Ras]) can also cause B12 deficiency by interfering with its absorption.
Because B12 deficiency is so common as we get older, I recommend that everyone over age 50 (and vegans of any age) take 50 mcg of B12 as part of a B-complex that contains a full spectrum of B vitamins, including biotin, thiamin, riboflavin and niacin. B12 in the form of a sub-lingual spray is often better absorbed.
Incidentally, in the absence of a documented deficiency, I don't recommend B12 shots as an occasional tonic or pick-me-up. People who get them often report immediate feelings of warmth, energy and a general glow of health. The effects tend to be short-lived and are most prominent with the first injection, suggestive of a placebo response.
Andrew Weil, M.D.
Source:
Theodore M. Brasky et al "Long-Term, Supplemental, One-Carbon Metabolism–Related Vitamin B Use in Relation to Lung Cancer Risk in the Vitamins and Lifestyle (VITAL) Cohort." Journal of Clinical Oncology, August 22, 2017; DOI: 10.1200/JCO.2017.72.7735