5 Food Sources Of B Vitamins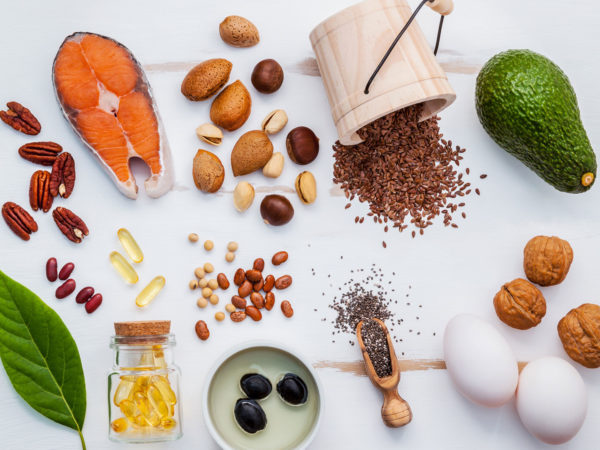 Do you know which whole foods contain the B vitamins your body needs? B vitamins help your body turn food into energy. Watch this video from the DrWeil.com editorial team to find out the benefits of B vitamins, plus discover common foods sources of B vitamins to keep on hand in your healthy kitchen.
---
---
Sources Of B Vitamins Video Transcript:
B vitamins are necessary for overall health, playing a role in energy production, the metabolism of carbohydrate, protein and fat, and helping to maintain a healthy nervous system. They can also be important in maintaining healthy muscle tone and skin. Sources of B vitamins can be obtained through a B-complex vitamin supplement or found in these five food ideas.
Avocados
Avocados are high in fiber and potassium, and a great source of several B vitamins including vitamin B3, vitamin B5, and vitamin B7.
Eggs
Eggs provide many essential nutrients, especially B vitamins such as vitamin B2, vitamin B3, vitamin B5, vitamin B6, vitamin B7, and vitamin B12. Dr. Weil suggests choosing organic, free-range eggs that are omega-3-enriched.
Dark, Leafy Greens
Dark, leafy greens – such as kale, spinach, Swiss chard, arugula and mustard greens – are great sources of vitamin B2, vitamin B3, vitamin B7, and vitamin B9. Choose organic leafy greens when buying, as conventional varieties are commonly treated with high amounts of pesticides.
Wild Fish/Salmon
Fish, such as wild salmon, offers up several essential B vitamins such as vitamin B2, vitamin B6, vitamin B7, and vitamin B12. Dr. Weil recommends avoiding farmed salmon and instead opting for wild-caught varieties.
Legumes
Legumes are an excellent source of vitamin B1, vitamin B3, vitamin B5, vitamin B7, and vitamin B9. A great way to get your B vitamins when on a budget, as they are inexpensive and easy to prepare.
A B-Vitamin Complex
A quality multivitamin contains the full complex of B vitamins and, in addition to diet, typically provides enough B vitamins for most people. An additional B complex may be useful for those who avoid animal products or who take medications that deplete one or more of the B vitamins.