Does Menopause Cause Depression?
Can you tell me how often depression occurs with menopause? Does menopause or aging put women at risk?
Andrew Weil, M.D. | September 1, 2020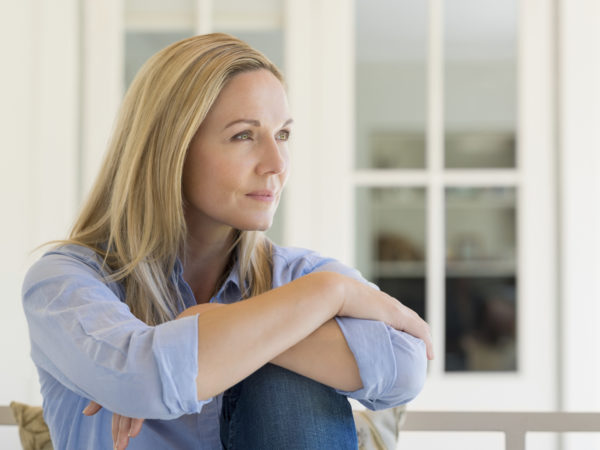 A new study published in July 2020 found that depression is very common among menopausal women. The hormonal changes occurring with menopause are linked to a number of psychological problems, including depression, anxiety, irritability, nervousness, sadness, restlessness, memory deficits, and lack of confidence and concentration as well as loss of libido. Depression and anxiety are the most common problems seen.
The study, published in the July 2020 issue of the journal Menopause, took place in Turkey and involved 485 postmenopausal women between the ages of 35 and 78. Forty-one percent of them experienced some form of depression, a somewhat lower rate than seen in some earlier studies where depression was found to affect up to 70 percent of women as they transition into menopause.
The new study identified a number of risk factors related to post-menopausal depression, including being widowed or separated from one's spouse, alcohol consumption, health problems requiring continuous medication, physical disability, diagnosed mental illness, and having four or more living children. The Turkish investigators found no relationship between depression and fear of death, which they noted often becomes more pronounced as women age.
Their study revealed that the frequency of depression was also higher among women with less education as well as those with a history of any type of mental illness.
I'm sure these findings aren't the last we'll see published on the psychological consequences of menopause. In my view, mental attitude has a lot to do with how well a woman adjusts. If menopause is seen as a tragic end to youth, fertility and sexuality, it can cause significant disruptions in one's day-to-day life, and create the temptation to pursue unproven therapies that promise eternal youth. If menopause is seen simply as the natural transition to the next phase of life, it can be more easily accepted and adjusted to.
Depression is one of the most common mental disorders, affecting about 340 million people worldwide, occurring in all age groups, social classes and cultures. It is far more common in women, affecting 25 percent of them versus about 10 percent of men. About half of all cases go undiagnosed and untreated, even though it is the most treatable form of mental illness.
Here's where you can learn about depression, its symptoms and the lifestyle changes you can make to deal with it. And here's where you can learn about the symptoms and treatment of menopause.
Andrew Weil, M.D.
Source:
Kevser Ozdemir et al, "Depression, anxiety and fear of death in postmenopausal women.", Menopause, July 1, 2020.