Why Is Handgrip Strength Important?
Lately I've seen several mentions of handgrip strength as an indication of good health. Can you explain the connection?
Andrew Weil, M.D. | July 12, 2018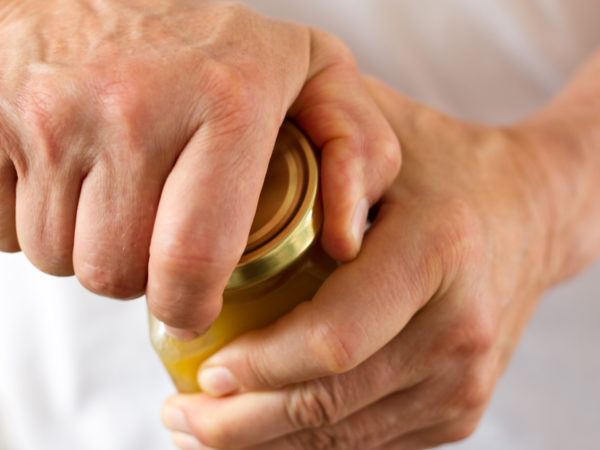 For most of life we tend to take our handgrip strength for granted. It is an indication of our general muscle strength, necessary for many of the functions we perform daily – opening bottles, turning handles, lifting and carrying objects, grasping a steering wheel, etc. As we get older, both grip and overall muscle strength decline.
Research has shown that the weaker your grip, the greater the risk of having a heart attack or stroke. A study carried out in 17 countries that included 139,691 adults between the ages of 35 and 70 found that a five-kilogram (about 11 pounds) decline in grip strength is linked to a 17 percent increased risk of dying from a heart attack or stroke over a four-year period. Grip strength was determined with a hand dynamometer, a device that measures the force used to squeeze two handles together. The researchers suggested that stronger grips signal more muscle mass, which is associated with increased activity and better health.
Evidence from another study including more than 20,000 seniors indicated that weak grip strength in men age 65 and older predicts lack of mobility. And recent research from Korea found that handgrip strength among 1,773 women was associated with their lung capacity. The researchers suggested that testing seniors' handgrip strength could be an inexpensive and simple way to determine risk of future lung problems. They noted that losing muscle strength with age could undermine lung function, increasing the risk of bronchitis, pneumonia, and other respiratory conditions, as well as heart disease.
A series of British studies published in 2014 found – not surprisingly – that, on average, males were stronger than females from adolescence on. Their peak median grip was 51 kilograms between the ages of 29 and 39, compared to 31 kilograms in women between 26 and 42. More recent research published in the Journal of Hand Therapy in October 2016 suggests that grip strength has been declining in both men and women. It showed that women between ages 20 and 24 have weaker grips today than women of the same age in 1985 and that men under age 30 have weaker handgrips than young men in 1985. Researcher Elizabeth Fain of Winston-Salem State University attributed the changes to technology-related work that did not exist in 1985 when the first norms of grip strength were established.
If you're concerned about your grip strength, consider how well you perform daily chores using your hands. Can you lift a pot off the stove easily? Do you have any problems opening jars or turning doorknobs? While there's no evidence that increasing grip strength will improve overall health, you can always ask your doctor to measure your grip strength and suggest ways to improve it if necessary. You can also find grip-strengthening exercises online.
Andrew Weil, M.D.
Source:
Yong-Jae Lee et al, "Relationship Between Handgrip Strength and Pulmonary Function in Apparently Healthy Older Women." Journal of the American Geriatrics Society, May 21, 2018, doi.org/10.1111/jgs.15410