Aspirin To Prevent Dementia?
Is it true that taking aspirin can prevent dementia? How much aspirin and how often should we take it?
Andrew Weil, M.D. | May 19, 2020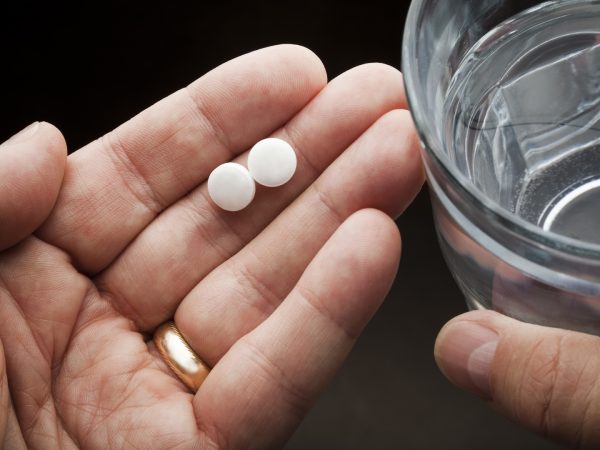 Dementia is a progressive decline in mental abilities, affecting memory, thinking, judgment, attention span and learning. Although it usually develops after the age of 60, it is not a natural part of aging and it is theorized that inflammation plays a role in its development. It's possible that through its anti-inflammatory and blood thinning actions, aspirin might lower the risk of small blood clots and narrowing of blood vessels in the brain. Taking low-dose aspirin appears to reduce risk of heart disease and stroke in some people.
Unfortunately, the results of a new study showed that daily low-dose aspirin did not reduce the risk of cognitive and memory problems due to mild cognitive impairment or probable Alzheimer's disease nor did it slow the rate of cognitive decline among affected people.
The study was a large one, including 19,114 people in Australia and the United States, most of whom were 70 years old or older. None had dementia or heart disease at the outset. All took thinking and memory tests when the study began as well as during follow-up visits. Half took 100 milligrams of aspirin daily, while the other half took a placebo. They were followed for an average of 4.7 years with annual in-person exams. During that time 575 people developed dementia.
The researchers found no difference in the risk of developing mild cognitive impairment, dementia, or probable Alzheimer's disease between the study participants who took aspirin and those who took the placebo. They also saw no difference over time in the rate of cognitive change.
Study leader, Joanne Ryan, Ph.D., of Australia's Monash University's School of Public Health, said that while the findings were disappointing, "It is possible that the length of just under five years for our study was not long enough to show possible benefits from aspirin, so we will continue to examine its potential longer-term effects by following up with study participants in the coming years."
The researchers wrote that the study may have been limited by the fact that it enrolled only relatively healthy people, who may benefit less from aspirin than the general population.
There is still a lot we need to study regarding aspirin and protecting mental health. Here's where you can find my recommendations for nutrition and lifestyle changes for reducing the risk of dementia.
Andrew Weil, M.D.
Source:
Joanne Ryan et al, "Randomized placebo-controlled trial of the effects of aspirin on dementia and cognitive decline." Neurology,  March 25, 2020, DOI: 10.1212/WNL.0000000000009277