Should I Take Aspirin For Good Health?
I've been taking aspirin daily for several years. I'm 63 and have no heart problems or other serious health issues. I just read that aspirin is unlikely to help me. Should I stop taking it?
Andrew Weil, M.D. | March 21, 2019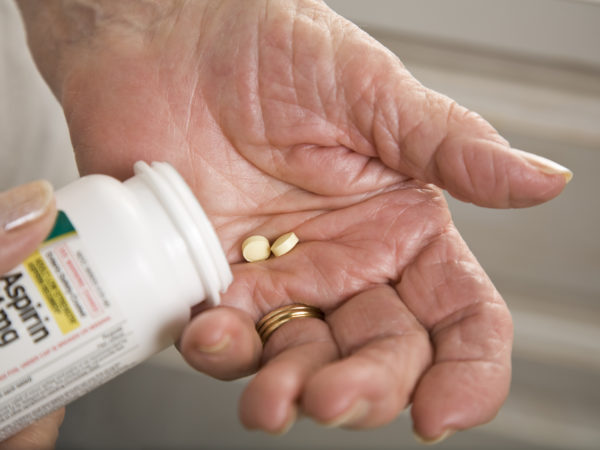 Evidence had shown that aspirin benefits people who have had heart attacks or strokes or are at high risk of either. But three studies published in September 2018 failed to show that aspirin prevented heart attack, stroke, dementia or cancer in 19,114 healthy seniors from Australia and the U.S. who took either 100 milligrams of it or a placebo daily over the course of 4.7 years. These findings prompted the American Heart Association and American College of Cardiology to issue new guidelines in March (2019) advising against daily aspirin use by healthy people.
There were actually more cancer deaths among the participants who took aspirin. (The deaths occurred in those who already had cancer.) Some developed cancer during the study, but taking aspirin wasn't implicated in the new cases. The study also found that 361 people who took aspirin were more likely to have serious bleeding in the digestive tract, brain or other sites compared to 265 of those on the placebo. Those affected required transfusion or hospitalization. Bleeding is a recognized risk of regular aspirin use.
The findings that aspirin didn't appear to benefit general health came as a surprise to the researchers. At the end of the study, 90.3 percent of the people randomly assigned to take aspirin were alive and had no persistent physical disability or dementia, as were 90.5 percent of those who took the placebo. Rates of physical disability and dementia were almost identical in both groups. All told, 5.9 percent of those taking aspirin and 5.2 percent of those on the placebo died during the study. The higher death rate among those who took aspirin was due to a higher rate of cancer deaths.
Be aware that the new advice does not apply to patients who have had a heart attack or stroke or have had bypass surgery or the placement of stents in their coronary arteries. Because these people have cardiovascular disease, they should continue taking low-dose aspirin daily or as recommended by their doctors.
Erin Michos, M.D., one of the authors of the new guidelines, advises protecting yourself from heart disease by eating a heart-healthy diet, getting regular physical activity, and keeping your blood pressure and cholesterol under control. Here's where you can find my recommendations for preventing heart disease.
Since you have no heart problems or other serious health issues, there is no reason for you continue taking aspirin daily. However, I suggest discussing this with your physician if he or she recommended it.
Andrew Weil, M.D.
Sources:
John J. McNeil et al, "Effect of Aspirin on Cardiovascular Events and Bleeding in the Healthy Elderly." New England Journal of Medicine, September 16, 2018; DOI: 10.1056/NEJMoa1805819
John J. McNeil et al, "Effect of Aspirin on Disability-free Survival in the Healthy Elderly." New England Journal of Medicine, September 16, 2018; DOI: 10.1056/NEJMoa1800722
John J. McNeil et al,"Effect of Aspirin on All-Cause Mortality in the Healthy Elderly." New England Journal of Medicine, September 16, 2018; DOI: 10.1056/NEJMoa1803955