Yoga For Depression?
I hear that taking yoga classes can help overcome symptoms of depression and anxiety quickly. How quickly?
Andrew Weil, M.D. | December 5, 2019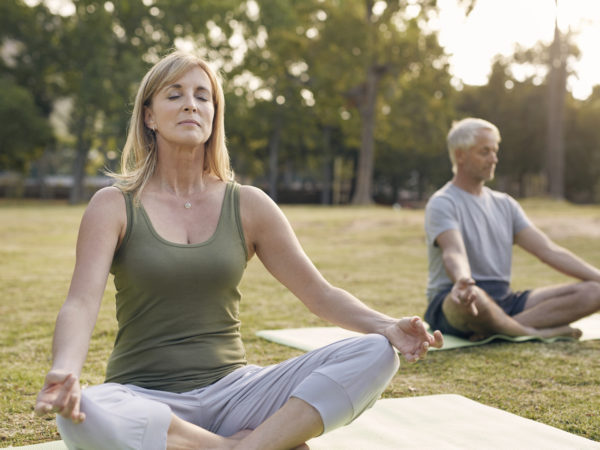 New findings from a Boston University School of Medicine (BUSM) study on yoga's effect on depression and anxiety suggest that it can improve symptoms of both these disorders with each session, as well as in the long term. I've reported on earlier Boston University research showing that twice-weekly yoga classes in conjunction with home practice can lead to a significant reduction in symptoms in people with major depressive disorder. Now the team has reported that within a month of engaging in Iyengar yoga and practicing coherent breathing, sleep quality significantly improved. Other benefits included increased tranquility, positivity, and reduced symptoms of fatigue, anxiety and depression among the 30 clinically depressed patients participating.
For the new study the patients were randomly divided into two groups. Over three months those in one group spent 123 hours in yoga and breathing sessions while those in the other spent 87 hours.
Chris Streeter, M.D., associate professor of psychiatry at BUSM noted that, "We give medications in different doses in order to enact their effects on the body to varying degrees. Here, we explored the same concept but used yoga." In earlier BUMC studies, 30 patients were randomized to take either 90-minute Iyengar yoga classes three times a week for 12 weeks or two 90-minute classes per week. Both groups were instructed to practice yoga at home. Iyengar yoga emphasizes detail, precision and alignment in performing postures, as well as breath control.
The participants, who ranged in age from 18 to 64, either were not taking anti-depressant drugs or had been on a stable dose of antidepressants for at least three months but continued to have symptoms. They attended sessions as instructed and also practiced yoga at home between classes.
On the basis of this study, the team concluded that the 90-minute twice-weekly yoga classes plus practice at home might be all that's needed to gain the benefits seen and that this study's findings provide preliminary support for yoga and deep breathing classes as an alternative to antidepressants or as an adjunctive therapy to medication.
Even earlier, the BUMC team compared the effects on depression of three hour-long sessions of yoga per week with walking for an hour three times a week. Results showed reduced levels of depression and anxiety among participants in the yoga group and that compared to those in the walking group, yoga participants' moodS improved more and their anxiety levels had dropped further.
Investigations elsewhere have suggested that yoga can have positive effects for people with mild depression. In 2013 researchers from Duke University Medical Center published a review of yoga's influence on depression and other major psychiatric disorders. After analyzing four relevant studies on the subject, they concluded that yoga has a "reasonable benefit" for treating mild depression.
Aside from its effects on depression and anxiety, I view yoga as one of the best forms of nonaerobic exercise. It can improve muscle tone, flexibility and balance. And whether you decide to practice it for that reason or not, it also can make you calmer and more balanced emotionally and spiritually.
Andrew Weil, M.D
Source:
Chris Streeter et al, "Psychological Function, Iyengar Yoga, and Coherent Breathing A Randomized Controlled Dosing Study." Journal of Psychiatric Practice, November 2019 DOI: 10.1097/PRA.0000000000000435