Can Yoga Heal?
I've been told that practicing yoga can reduce fatigue and even lower inflammation in the body. Is there anything to this?
Andrew Weil, M.D. | March 23, 2017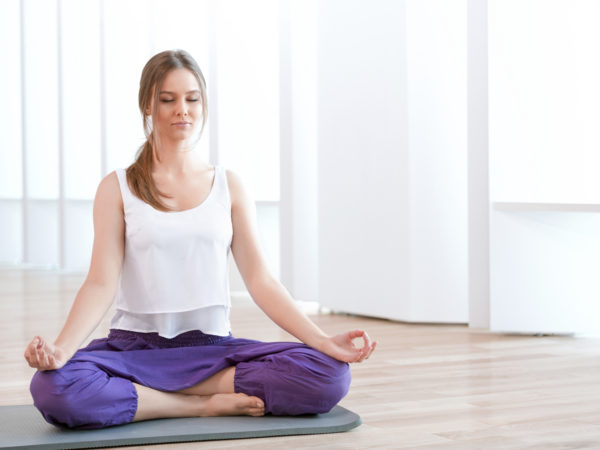 Yes. Practicing yoga regularly does appear to help reduce both fatigue and inflammation. An Ohio State study published in 2014 showed that practicing yoga for as little as three months had both of those effects in breast cancer survivors. Three months after their formal yoga practice ended the women in the study rated their fatigue as 57 percent lower than it was at the outset, and blood tests showed that their markers of inflammation had declined by up to 20 percent, compared to breast cancer survivors in a control group who didn't perform yoga.
The researchers recruited 200 women ranging in age from 27 to 76. All had completed their breast cancer treatment 2 months to 3 years earlier. The participants had various stages of breast cancer and different treatments – a deliberate mix.
Lead researcher Janice Kiecolt-Glaser, Ph.D., a professor of psychiatry and psychology, explained that the team focused on breast cancer survivors because of the treatment ordeals they had experienced: "The treatment is so debilitating, and they are so tired, and the less you do physically, the less you're able to do…That's one reason we think there are higher levels of inflammation in cancer survivors."
The women provided information on the extent of their fatigue, their energy levels, sleep quality, symptoms of depression, physical activities and diet. They also gave blood samples used to measure markers of inflammation.
Half the women were assigned to groups that practiced the same yoga poses during 90-minute sessions twice a week. They were also encouraged to practice at home and to log the total time they devoted to yoga week by week. After the 3 months, the women in the yoga groups reported, on average, a 41 percent drop in fatigue and a 12 percent higher vitality score compared to the women in the control group. In addition, their blood tests showed declines in levels of 3 protein markers of inflammation, interleukin-6, interleukin-1-beta and tumor necrosis factor alpha. Compared to the women in the control group, these levels dropped 10 to 15 percent.
The women who did yoga also reported they were sleeping better. And 3 months after the yoga sessions ended, they continued to improve. Their fatigue declined further to 57 percent lower than the women in the control group, and their inflammation levels were between 13 and 20 percent lower. "We think improved sleep could be part of the mechanism of what we were seeing," Dr. Kiecolt-Glaser said.
These results are good news, considering that inflammation is linked to so many health problems, including heart disease, diabetes and arthritis, as well as the functional declines that come with aging. There are many good reasons to practice yoga. This study suggests we can add reducing inflammation and fatigue to the list.
Andrew Weil, M.D.
Source:
Janice K. Kiecolt-Glaser et al, " Yoga's Impact on Inflammation, Mood, and Fatigue in Breast Cancer Survivors: A Randomized Controlled Trial." Journal of Clinical Oncology, April 2014, DOI: 10.1200/JCO.2013.51.8860