Sinus Headaches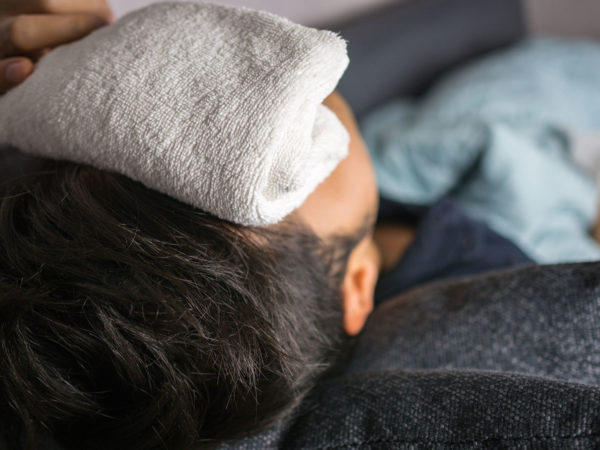 What Are Sinus Headaches?
There is good and bad news about sinus headaches. The good news is that even though they're caused by a sinus infection they are rare. The bad news is that what you might think is a sinus headache is much more likely to be a migraine. The sinuses are mucus-lined cavities in your cheekbones, around your eyes and behind your nose. They can become infected if something prevents the mucus from draining normally. A bacterial infection causing inflammation – sinusitis – in one or more of the sinuses may cause painful pressure in the cheeks and forehead. Absent a sinus infection, most pain in those locations is likely to be migraine.
In 2001 the American Migraine Study II, a national survey of nearly 30,000 people, found that many of the participants diagnosed with migraines had originally thought – or had been previously told by their doctors – that they had sinus headaches.
What Are The Symptoms Of Sinus Headaches?
According to the American Academy of Allergy, Asthma & Immunology (AAAA&I), the following symptoms are used to make a diagnosis of sinus headache:
A headache in the front of the head with pain in one or more areas of the face, ears, or teeth and clinical or laboratory evidence of acute or chronic rhinosinusitis. Physicians might perform a nasal endoscopy to confirm the diagnosis by visual inspection of the nasal and sinus passages.
Headache and rhinosinusitis symptoms that occur at the same time.
Headache or facial pain that go away within 7 days after decreased symptoms or successful treatment of acute or chronic rhinosinusitis.
What Are The Causes Of Sinus Headaches?
This type of headache is caused by a sinus infection (acute bacterial rhinosinusitis).
Prevention Of Sinus Headaches 
If allergies are involved in sinus infections, avoiding the allergens or treating the allergies may help you avoid recurrent infections. Take precautions indoors to avoid or eliminate dust mites, molds and animal dander.
Conventional Treatment Of Sinus Headaches 
According to the AAAA&I, up to 70 percent of people with acute sinusitis recover without any prescription medications, although an antibiotic can shorten the duration of a bacterial infection and reduce the severity of symptoms. Decongestants or nasal sprays may also be recommended to help relieve symptoms and non-prescription pain relievers including aspirin, ibuprofen and acetaminophen (Tylenol) may help (Don't give aspirin to children under age 18.) If medical treatment doesn't help, endoscopic surgery to remove blockages in the sinuses may be recommended. In most cases, this surgery is performed through the nostrils while you're under general anesthesia.
What Does Dr. Weil Recommend For Sinus Headaches?
The following steps may help ease the discomfort of sinus headaches and infections:
Put hot, wet towels over your upper face frequently. Work up to as much heat as you can stand, every 15 minutes, three or four times a day. This promotes drainage and increases blood flow to the sinus area.
Drink plenty of fluids to help moisten and thin the mucus in your sinuses; inhaling steam with a few drops of oil of thyme or oil of oregano is also a good idea.
Nasal douching: Mix a solution of salt water (1/4 teaspoon of salt to a cup of sterile warm water). Pour some of the salt water into your cupped hand and inhale it into one nostril at a time while closing the other nostril with an index finger. Or you can get a neti pot, a ceramic container shaped like a miniature Aladdin's lamp that allows you to pour water directly into the nose. Use enough solution to fill your nasal cavity and spill into your mouth. Spit it out and then gently blow your nose. At first, this process may seem uncomfortable and messy, but once you get the hang of it, you'll like what it does for your nose and sinuses. Use only purified, sterile, or boiled water for nasal douching.
You also may be able to limit chronic sinus infections by boosting your resistance. Dr. Weil recommends taking a daily multivitamin, eating one to 2 cloves of raw garlic daily, and taking astragalus herb (2 capsules twice a day) along with an immune-enhancing mushroom formula.
Try eliminating cow's milk and all cow's milk products. Casein, the protein in milk, can irritate the immune system and increase mucus production. It is often associated with sinus conditions as well as with recurrent childhood ear infections, eczema, chronic bronchitis and asthma. It may take as long as to 2 months before you experience the full benefits of eliminating milk from your diet.
Try acupuncture, which can be remarkably effective for relieving acute sinusitis. Acupuncture can ease pain and help promote sinus drainage within minutes of the placement of the needles.
Don't smoke, avoid smoky surroundings, and if you live in a smoggy area, consider purchasing a HEPA air filter for your home.
Sources:
N.S. Jones, "Avoiding Over-and missed diagnosis," Expert Review of neurotherapeutics, April 2009, doi: 10.1586/ern.09.8.
Richard M. Rosenfeld, "Acute Sinusitis in Adults." New England Journal of Medicine, September 8, 2016, DOI: 10.1056/NEJMcp1601749