Acupuncture For Migraines?
I've heard that acupuncture can relieve migraine headaches. Do you think this is a good approach?
Andrew Weil, M.D. | May 14, 2020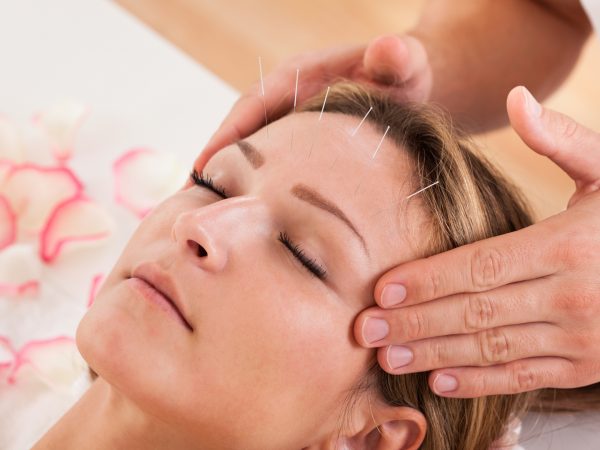 A recently published study from China found that acupuncture reduced the frequency of migraines among 147 patients who had a history of migraine headaches without aura (visual and sensory changes that can precede them). The study compared the effectiveness of real acupuncture to sham acupuncture (where the needles are placed at non-acupuncture points and do not penetrate the skin) and to the usual care for prevention of migraines.
None of the patients had received acupuncture before. All were told not to take any painkillers or use any other headache treatments for the duration of the study. They were randomly assigned to receive either 20 sessions of real acupuncture, 20 sessions of sham acupuncture, or usual care including advice on lifestyle and self-management over an eight-week period. During the 12 weeks following these interventions, the researchers compared changes in migraine days and migraine attacks among the patients. They found that real acupuncture resulted in a greater reduction of migraine days (3.9 v. 2.2) at weeks 13 to 20 and fewer migraine attacks (2.3 v. 1.6) at weeks 17 to 20, compared to those in the sham acupuncture group. The team also reported that sham acupuncture led to a minor reduction in migraines compared to the usual care (1.6 v. 0.4) during weeks 17 to 20 with a slightly decreasing trend over this period.
Based on their findings, the investigators said acupuncture should be recommended for migraine prevention. An earlier analysis investigating acupuncture for prevention or treatment of migraines was published in 2016. It combined the results of 22 earlier trials that included a total of 4,985 patients. Results showed that in four trials with 2,199 participants acupuncture was associated with a moderate reduction of headache frequency. Findings also showed that after acupuncture, headache frequency was reduced by half in 41 percent of patients. There was also a reduction in headache frequency in 17 percent of patients who did not receive acupuncture. In addition, the authors of the 2016 analysis concluded that contrary to previous findings, this evidence suggests that the difference in efficacy between real and sham acupuncture is small. They also wrote that acupuncture may work as well as drugs used to prevent migraines and can be considered as an option for some patients.
Andrew Weil, M.D.
Sources:
Shabei Xu et al, "Manual acupuncture versus sham acupuncture and usual care for prophylaxis of episodic migraine without aura: multicentre, randomised clinical trial," BMJ March 25, 2020 doi: doi.org/10.1136/bmj.m697
Klaus Linde et al, "Acupuncture for the prevention of episodic migraine," Cochrane Database of Systemic Reviews, June 28, 2016, doi.org/10.1002/14651858.CD001218.pub3