Is There Any Benefit To Taking Digestive Enzymes?
Do these supplements help with constipation, bloating, and other digestive symptoms?
Andrew Weil, M.D. | October 12, 2021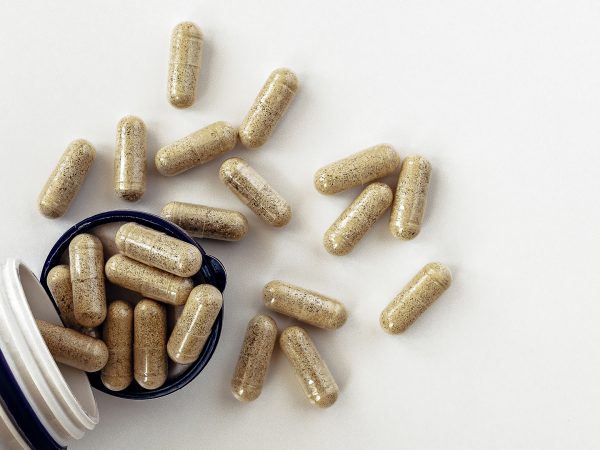 Enzymes are proteins that help the body perform any number of biochemical processes, including digestion. Your body produces a variety of digestive enzymes in the stomach and pancreas; they help break down the foods you eat into absorbable nutrients. In most cases, your body makes all the digestive enzymes you need. In some instances, I recommend supplemental enzymes for people with certain digestive problems, but more typically I recommend dietary changes.
Lactose intolerance
One of the most common digestive enzymes is lactase, which is marketed as a supplement for people who are lactose-intolerant (meaning they don't produce the enzyme needed to digest this sugar) and have digestive reactions to milk, ice cream, and other dairy products that contain it. A better alternative to taking lactase with dairy products is to stop, or greatly reduce, your intake of dairy, especially cow milk. (The fats, proteins, and hormones found in commercial milk products are also problematic for human health.)
Constipation, bloating, and flatulence
Some people turn to digestive enzymes for constipation or bloating, which are more likely to be the result of food choices rather than any insufficiency in naturally produced enzymes. Drinking plenty of water and increasing daily fiber intake is often all that's needed to resolve slow moving bowels. (See my recommendations on addressing constipation.) Flatulence is often   a result of foods and food combinations. If there are foods that cause bloating and flatulence and you can't eliminate them from your diet, the digestive enzyme sold as Beano is generally effective.
Irritable bowel syndrome
Those with irritable bowel syndrome can largely address their symptoms by eliminating foods and ingredients that trigger them. These are often caffeine, dairy products, the sorbitol or xylitol found in many "sugarless" products, and the carrageenan found in soy milk, soy ice cream, and often used as a thickening agent in many other foods.
Patents with cystic fibrosis will frequently need to take digestive enzymes because the function of their pancreas is affected by the disease. In rare cases, the body simply doesn't make sufficient amounts of digestive enzymes. Individuals with a condition called pancreatic exocrine insufficiency (PEI) can suffer from malnutrition due to the inability to properly digest the food they eat. Those patients need enzyme replacement therapy to help them absorb nutrients. For most people with more common digestive complaints, however, supplemental enzymes are not necessary.
Andrew Weil, M.D.
Sources:
Dominguez-Muñoz JE. "Management of pancreatic exocrine insufficiency." Curr Opin Gastroenterol. 2019 Sep;35(5):455-459. doi: 10.1097/MOG.0000000000000562. PMID: 31219829. https://pubmed.ncbi.nlm.nih.gov/31219829/