Acupuncture For Constipation?
Is it true that acupuncture can effectively treat constipation? Can you tell me what would be involved – how many treatments are needed and whether or not the results are long-lasting?
Andrew Weil, M.D. | December 30, 2021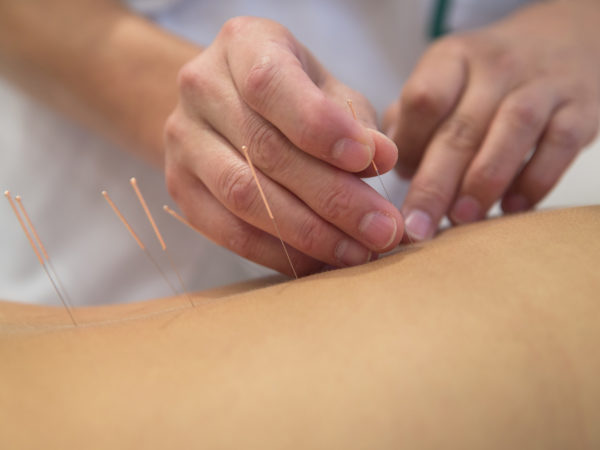 There is no rule about what constitutes a normal number of bowel movements, which can range from several a day to just a few per week. Chronic constipation generally means having fewer than three bowel movements a week, with stools that are usually hard, dry, small and difficult to pass. Sometimes constipation is a reaction to dehydration, to a medication, or to changes in daily routine. It can also be associated with certain diseases and conditions, including Parkinson's disease, lupus, and some cancers. In other people however, there is no known cause for the infrequency of bowel movements, and it is diagnosed as "functional constipation." Acupuncture has been studied as treatment option, but the evidence that it works is mixed at best.
A report in the Journal of Integrative Medicine in November 2021 looked at 13 previously published studies on the use of acupuncture for functional constipation and found only weak evidence of its effectiveness. The authors concluded that acupuncture may be better than "sham acupuncture" (in which needles are not placed at acupuncture points and are not inserted as deeply or manipulated the way true acupuncture needles are) and may also be better than laxatives at achieving bowel movements. It stopped short of recommending acupuncture as a reliable therapy for addressing constipation, however, citing inconsistent results.
An earlier study from China found that electroacupuncture could help treat severe constipation in those with no underlying medical problem and no use of constipation-causing medications. In that study, 1,075 individuals were divided into 2 groups – those in one group received electroacupuncture while those in the other received sham treatments. Electroacupuncture involves low-voltage currents delivered through acupuncture needles. In this case, the needles were inserted at 6 points in the abdomen for 30 minutes per treatment.
The researchers reported that 31 percent of the patients treated with electroacupuncture had an average of 3 or more bowel movements a week over the course of the 8-week study, and that almost 38 percent of them reported having 3 or more bowel movements per week during 12 weeks of follow up. Only 12 percent of the patients in the sham acupuncture group reported the same results during the 8 weeks of treatment and only 14 percent of them had equivalent relief during the 12 weeks of follow up. In addition, the patients who received electroacupuncture reported improvements in their general well-being and quality of life. The most common acupuncture-related side effects were hematoma (a collection of blood, usually clotted) at the site of needling, sleeplessness and sharp pain, although these were infrequent in both groups and were considered mild and transitory.
Electroacupuncture might be beneficial for some people suffering from severe constipation, especially constipation that hasn't responded to other treatments. However, the study didn't include follow-up to show whether or not the relief lasted longer than 12 weeks in the patients who reported a benefit. The researchers noted that 28 electroacupuncture treatments within 8 weeks could be burdensome for many patients.
Another consideration for patients in the U.S. is that neither Medicare nor Medicaid cover acupuncture, although some private insurance companies may provide coverage. Costs can range from $60 to $120 per treatment, or more.
I recommend trying a variety of lifestyle changes, including exercise, better hydration, more fiber in the diet, and stress management to address most cases of constipation. You can see my recommendations for dealing with constipation here.
Andrew Weil, M.D
Source:
Jun-peng Yao, Li-ping Chen, Xian-jun Xiao, Ting-hui Hou, Si-yuan Zhou, Ming-min Xu, Kai Wang, Yu-jun Hou, Lin Zhang, Ying Li, "Effectiveness and safety of acupuncture for treating functional constipation: An overview of systematic reviews," Journal of Integrative Medicine, 2021, ISSN 2095-4964, https://doi.org/10.1016/j.joim.2021.11.001. (https://www.sciencedirect.com/science/article/pii/S2095496421001011)
https://my.clevelandclinic.org/health/diseases/4059-constipation
https://www.sciencedirect.com/topics/medicine-and-dentistry/functional-constipation
Updated December 2021.