Flatulence From Beans?
Can anything help reduce my GI issues when I eat beans?
Andrew Weil, M.D. | September 20, 2021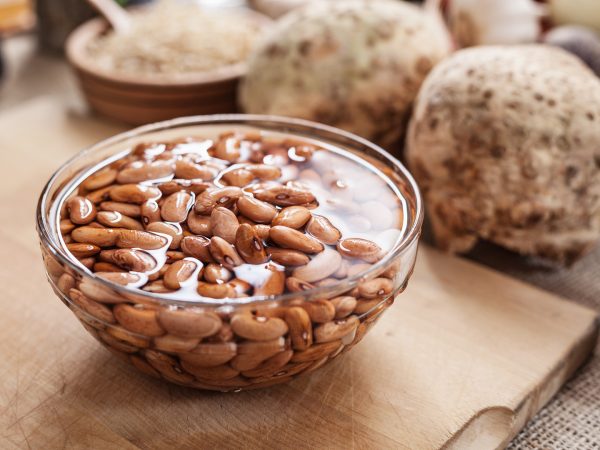 Yes. Although some types of beans are notorious for triggering gas, bloating, and other gastrointestinal woes, you don't need to forego them — or miss out on their health benefits. Beans are rich in folic acid and other B vitamins, potassium, magnesium, fiber, complex carbohydrates, and protein. They're an integral part of an anti-inflammatory diet, and people who consume them regularly have been found to have lower rates of cardiovascular disease. Despite these advantages, because they tend to produce gas when the body digests them, some people are reluctant to include beans in their diet.
The good news is that when it comes to gas production not all beans are created equal. A review of three previously published studies on the topic considered the amount of flatulence that people experienced after eight weeks of consuming a half-cup of pinto beans, black-eyed peas, vegetarian baked beans, and cooked carrots. They found that black-eyed peas appeared to cause less gas than pinto beans or baked beans, but that flatulence levels returned to normal after three or four weeks, when the bodies of those that ate them adjusted to the increase in fiber. The review's authors concluded that "people's concerns about excessive flatulence from eating beans may be exaggerated." I find that Anasazi and black beans cause less gas than other varieties.
That said, there are ways to help prevent flatulence from any beans. If you use dried beans, soaking them before cooking may help. In one experiment, researchers soaked five different types of beans in water for varying amounts of time. They found that beans that were soaked in plain water for 12 hours retained the lowest levels of gas-producing substances. If you try this method, be sure to drain the beans and cook them in fresh water after soaking.
 You can also add certain herbs, spices, and other substances to beans during the cooking process. I like to add a large strip of dried kombu seaweed — available in natural foods stores and Asian markets — to the pot of beans and water prior to boiling and remove it after cooking. Some people find adding a slice or two of ginger or some fennel or cumin seeds can also help. I've also had good results from adding an herb called epazote to beans. Used in Mexican cooking to add flavor to soups, stews, and moles, epazote also has a reputation for helping prevent gas. You can find dried epazote online and in specialty markets. Additionally, skimming and discarding the foam during boiling helps reduce the gas-producing properties of beans.
Finally, you could try Beano. This product contains digestive enzymes that help break down the compounds in beans and other foods (such as cruciferous vegetables like broccoli and cabbage) responsible for flatulence. Chewing a tablet or two of beano right before eating may prevent the problem.
Andrew Weil, M.D.
Source:
Winham DM, et al. "Perceptions of flatulence from bean consumption among adults in 3 feeding studies," Nutr J, 2011; 10: 128. doi: 10.1186/1475-2891-10-128