COVID-19 And Testosterone Levels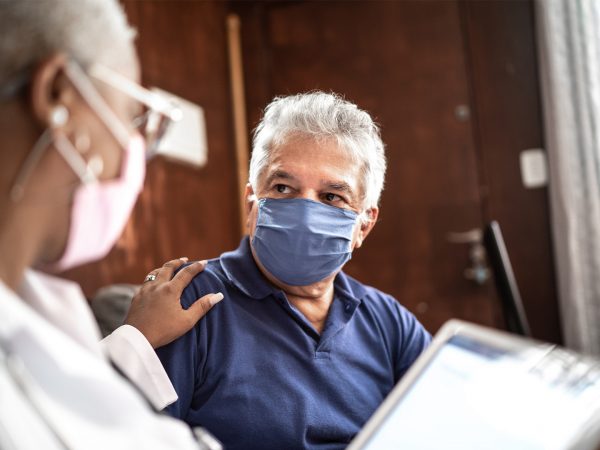 By Sheldon H. F. Marks, M.D. – Recent research reveals that men infected with COVID-19 often experience a significant drop in testosterone.  Studies have shown that following an infection there is damage to the testosterone producing cells, called Leydig cells, which are located throughout the testicles. Because this is only preliminary information, there are still many questions to be answered about this decrease in the male hormone, and many details to be worked out. Researchers do not yet know if the testosterone levels always drop in all men infected with COVID-19. It is also unclear if this occurs in those with no symptoms or if testosterone drops only in those men who are very sick or hospitalized from the infection. Doctors also are unsure if testosterone levels are affected right away or if the levels decrease over time. To make things even more confusing, scientists don't know how long testosterone levels remain depressed, if the problem may be quickly resolving or a long-term concern, and when or if the levels will even return to normal.
Although researchers have detected the COVID-19 virus in the testicles of infected men, along with damage to the sensitive Leydig cells which produce testosterone, they are not sure if this damage is from the viral infection itself, the high fevers commonly seen with the infection, from the body's natural immune and inflammatory reaction to the infection, or if these changes could actually be caused by the treatments for the COVID-19.
Because what we know about COVID-19 is in the very earliest phases, anything we think is correct about it today is often contradictory, confusing and could very well be proven incorrect tomorrow. What this means is that it will probably take years to fully understand the true impact of a COVID-19 infection on testosterone, as well as its implications for male fertility and health.
What should I do now?
Because such a high percentage of men have had a COVID-19 infection with no or only minimal symptoms, it would be prudent to ask your doctor to order a testosterone level now as a baseline study. Having this blood test done before you are ill will provide your doctor a lab result for future comparison, and aid in your care and management should your testosterone levels drop after a COVID-19 infection.
If you have had a COVID-19 infection, you may want to talk to your doctor about checking your testosterone level, especially if you are experiencing a new onset of symptoms consistent with low testosterone levels, such as fatigue, low sex drive and reduced muscle mass.
While this potential problem is certainly being investigated, there are still no clear and consistent answers about the possible consequences of a COVID-19 infection on testosterone levels. It is in your best interest to monitor the research to keep tabs about the most current information and recommendations. Of course, the CDC website is always a reliable resource, as well as talking with your own personal doctor, ideally your urologist, about COVID-19 and testosterone.
About the author:
Dr. Marks is the Director of ICVR (International Center for Vasectomy Reversal), instructor at international courses, author of "Vasectomy Reversal: Manual of Vasovasostomy and Vasoepididymostomy," and Assistant Clinical Professor of Urology at the University of Arizona College of Medicine, Tucson, Arizona.