Vegetable Quiche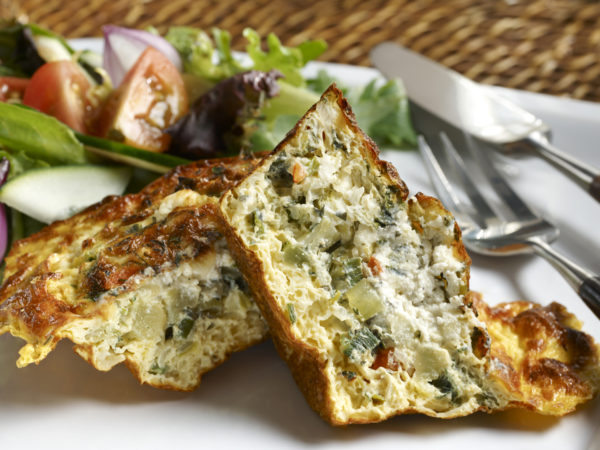 Nutrition
Serves 8
Nutrients Per Serving:
Calories 205
Fat 12.6 grams
Saturated Fat 4.9 grams
(53.8% of calories from fat)
Protein 10.0 grams
Carbohydrate 14.3 grams
Cholesterol 175 mgs
Fiber 2.3 grams
This recipe is from THE HEALTHY KITCHEN – Recipes for a Better Body, Life, and Spirit by Andrew Weil, M.D and Rosie Daley (Knopf)
This fresh vegetable quiche makes a wonderful brunch, or dinner when served with a salad. If you want to avoid egg yolks, it can be made with egg whites only.
This fresh vegetable "quiche" is made with a light, crispy potato crust and a filling of vegetables and herbs and spices. It makes a wonderful morning brunch or lunch or a simple dinner when served with a salad and a small, toasted baguette. If you should not be eating egg yolks, you can make it using only the egg whites.
Food as Medicine
Eggs are a good source of choline, a nutrient that helps to maintain the integrity of cell membranes and is particularly crucial to brain health and function.
Ingredients
1/2 cup purified water
1/4 cup sun-dried tomatoes
1/2 pound asparagus (about 2 cups chopped) or broccoli florets
1/2 medium onion, chopped
2 cloves garlic, sliced
2 tablespoons extra-virgin olive oil
1 carrot, cut in small cubes (about 1 cup)
5 mushrooms, sliced
1 tablespoon chopped fresh basil, or 1 teaspoon dried
1 tablespoon chopped fresh parsley
1/8 teaspoon chili flakes
1/8 teaspoon freshly grated nutmeg
1/2 teaspoon salt
1 teaspoon freshly ground black pepper
3 small red potatoes, washed and thinly sliced
1/2 cup grated cheese, Pepper Jack or Swiss
1/4 cup milk
1/2 cup sour cream
6 eggs
1 medium tomato, sliced (seeds squeezed out)
3 tablespoons freshly grated Parmesan cheese
Instructions
1. Preheat oven to 375º F.
2. Boil the water, pour over the sun-dried tomatoes, and allow to soak for about 15 minutes until they become soft and plump. Strain off any remaining liquid, and coarsely chop.
3. Cut off about 1 inch of the coarse ends of the asparagus stalks and discard or save them for soup. Cut the remaining stalks into about 6 pieces or chop coarsely. (If you are using broccoli, cut into florets.)
4. Blanch the asparagus by boiling it in a medium pot of water for 2 minutes or less. Asparagus should be bright green and firm to the bite. Drain, rinse the asparagus in cold water, and drain again in a colander.
5. Sauté the onions and the garlic in the olive oil over low heat until the onions are transparent, approximately 10 minutes. Add the carrots, mushrooms, basil, parsley, chili flakes, nutmeg, salt and pepper and continue to cook for 5 more minutes. Remove from the heat.
6. Lightly grease the bottom and sides of a 9-inch pie pan. Line the bottom with the potato slices, overlapping them slightly.
7. Whisk together the cheese, milk, sun-dried tomatoes, sour cream and the eggs in a large bowl. Mix in the sautéed vegetables and the blanched asparagus, coating everything with the cheese, milk and egg liquid, then pour into the potato-lined pie pan. Arrange the tomato slices on top and sprinkle with Parmesan cheese.
7. Bake for 1 hour, covering after 45 minutes if top browns. Completely baked quiche should be very firm.
8. Let cool 15 minutes before slicing and serving. Leftovers can be wrapped and kept in the refrigerator for up to 3 days.
Tips from Rosie's Kitchen:
Try to grate fresh nutmeg and Parmesan cheese yourself because it makes a noticeable difference in the flavor.
Drop the potato slices in cold water to prevent them from discoloring.
To blanch fruits and vegetables, boil them for about 2 minutes and then plunge them into cold water – this stops the cooking and sets the color. Blanching is also done to loosen the skins of fruits or vegetables such as plums or tomatoes.