Potato Pancakes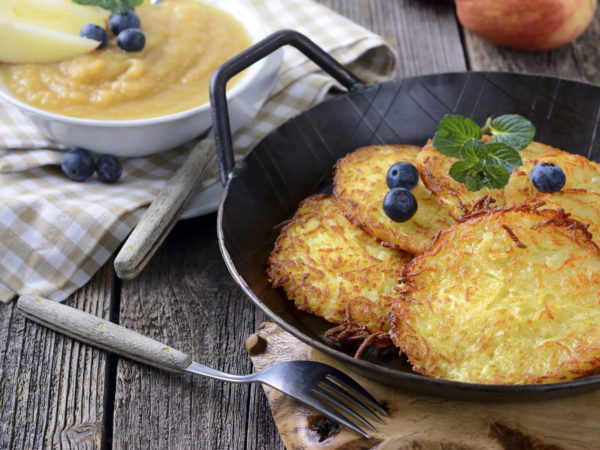 Nutrition
Makes 8 Pancakes
Nutrients Per Serving:
Calories 246.0
Fat 7.8 grams
Saturated Fat 1.3 grams
(28.3% of calories from fat)
Protein 5.4 grams
Carbohydrate 39.1 grams
Cholesterol 27 mgs
Fiber 3 grams
This recipe is from THE HEALTHY KITCHEN – Recipes for a Better Body, Life, and Spirit by Andrew Weil, M.D and Rosie Daley (Knopf)
Try these potato pancakes and get creative by adding your favorite herbs and spices!
I have made these at the house of a friend who gives a party featuring potato pancakes every year. He loves making them and gets really creative, tossing in hot sauce or different herbs. You can be as creative as you like with yours. Mine are a simple version, and I like to serve them with fresh applesauce.
Food as Medicine
Potatoes are typically fried or drenched in fatty sauces, but a potato on its own is remarkably low in calories (at 132 per cup). This humble vegetable is also high in vitamin C and vitamin B6, providing about 25 percent of the daily requirements for each nutrient.
Ingredients
3 large Idaho or Yukon potatoes (about 2 pounds)
1 large sweet onion
1 cup matzo meal, medium grain
1 egg
1 teaspoon salt, or more to taste
1/4 cup extra-virgin olive oil
GARNISH
Sour cream
Fresh applesauce
Instructions
Peel and grate the potatoes and onion by hand or in a food processor and put them in a large bowl. (If you grate the potatoes ahead of time, make sure to soak them in water to keep them from turning color, then drain and squeeze when ready to use.)
Add the matzo meal and the egg.
Sprinkle in the salt and blend everything together until the onions and potatoes are coated with the egg and matzo meal.
Let stand for 5 minutes.
With clean hands, roll a ball of dough just big enough to fit into the palm of your hand, and flatten it out with your palms to make a round cake. Repeat the process until you have used up all the batter.
Set a medium saucepan over medium-high heat with 1 tablespoon of olive oil.
Lay 4 pancakes in the hot oil and cook for 1 minute on each side, until they turn golden brown.
Transfer the pancakes to a paper towel to soak up any excess oil.
Repeat, adding more olive oil to the pan, until all pancakes are cooked.
Serve with sour cream and a side of fresh applesauce.
Tip from Rosie's Kitchen:
I sometimes add 1/4 cup chopped fresh sorrel leaves or chives to the batter. Sorrel, an herb that belongs to the buckwheat family, is in season during the spring. Its leaves are similar to spinach, and you'll want to buy the bunch that has bright green ones. Don't buy it if the leaves look wilted or pale in color.