Fava Bean Bruschetta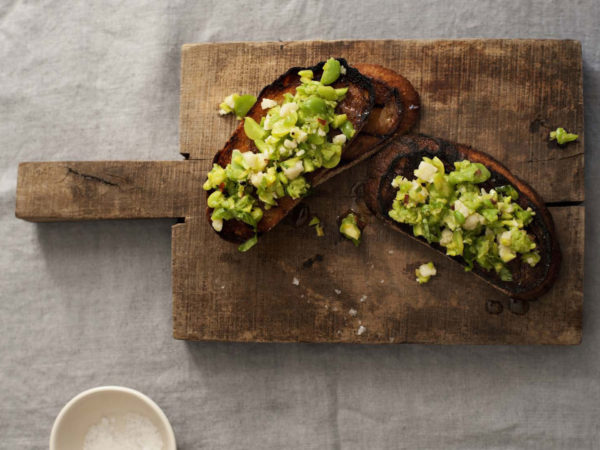 Bruschetta is a Tuscan-style appetizer made with grilled rustic, country bread, drizzled with olive oil and rubbed with garlic.
For a recent birthday, I was surprised with a special family-style Mediterranean feast in my home – and this bruschetta was one of the antipasta served.  Bruschetta, a Tuscan appetizer of a grilled rustic country bread drizzled with olive oil and rubbed with garlic, comes from the Italian word "bruscare," which means "to char." Fresh fava beans are often paired with Pecorino Toscana cheese, a firm sheep's milk variety from Tuscany.
Food as Medicine
Fava beans are a member of the legume family, also known as long beans, are packed with nutrition. A cup of cooked fava beans contains 13 grams of protein and 9 grams of fiber, no saturated fat or cholesterol, and have only 188 calories. A diet rich in protein (including plant protein, like favas) can help you feel fuller and thus may aid in achieving weight loss goals.
Ingredients
1 – 1 ½ pounds fava beans, shelled (about 2 cups after shelling)
5 ounces of Pecorino Toscana cheese, cubeds
2 tablespoons, plus ¼ cup of extra-virgin olive oil
1 ½ teaspoons of freshly grated lemon zest
1 ½ teaspoons freshly squeezed lemon juice
2 tablespoons chopped fresh mint
2 tablespoons chopped fresh basil
½ teaspoon red pepper flakes
½ teaspoon salt
12 slices good rustic Italian bread
3 garlic cloves, halved
Instructions
Pre heat the grill to medium-high or preheat the oven to broil.
In a saucepan, bring 4 cups water and 1 teaspoon salt to a boil. Add the shelled beans and cook for 2 minutes
Drain the beans and run under cold water. When cool enough to handle, pop the beans with your fingers to remove the husks.
When the beans are free of the husks, coarsely chop them and put them in a bowl.
Toss the beans with the cubed cheese, 2 tablespoons of extra-virgin olive oil, the lemon zest, and lemon juice, mint, basil, red pepper flakes, and salt.
Grill or broil the bread slices until toasted. Brush each slice with some of the remaining olive oil.
Rub each olive-oil coated bread slices with the cut side of the halved garlic cloves. Top each bread slice with a spoonful of the bean mixture and serve.