Is Organic Brown Rice Syrup Safe?
What are the pros and cons of consuming the organic brown rice syrup used to sweeten so many foods now? I've been told that it contains arsenic. Doesn't that make it dangerous?
Andrew Weil, M.D. | March 1, 2017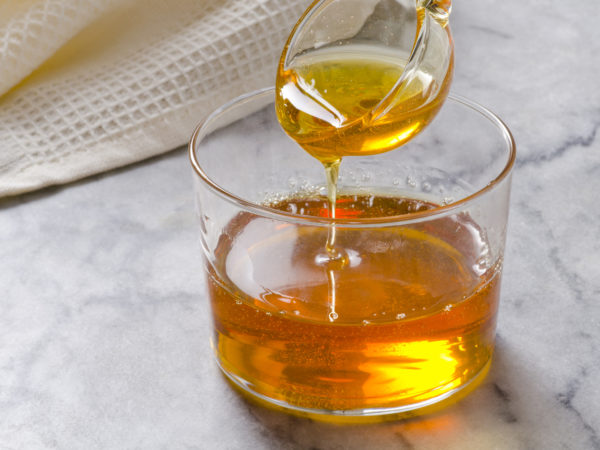 Organic brown rice syrup is a sweetener that has replaced high fructose corn syrup in many so-called "healthy" or "natural" foods. It is made by cooking whole-grain rice, then using enzymes to break down the starch into the sugars maltose, maltotriose and a small amount of glucose. After straining, the sweet liquid is boiled down into syrup. Organic brown rice syrup is gluten-free and suitable for vegan diets. It provides 75 calories per tablespoon (compared to 42 for table sugar) and ranks very high – 98 – on the glycemic index. You'll see organic brown rice sugar listed as an ingredient on cereal bars, energy shot drinks, and infant milk formula among other foods.
The safety issue concerning organic brown rice formula is, indeed, arsenic. A study from Dartmouth University published in 2012 found that arsenic levels in infant formula, cereal and energy bars and high-energy drinks used by endurance athletes were significantly higher than the limit of 10 parts per billion (ppb) established in 2001 by the U.S. Environmental Protection Agency (EPA) for public drinking water. Levels ranged from 23 to 128 ppb in cereal bars containing organic brown rice syrup; one energy shot drink contained 84 ppb, and two others had 171 ppb. The dairy infant formula tested had 8.6 ppb, while a soy-based formula had 21.4 ppb.
The arsenic comes from the rice itself, and brown rice has more of it than white rice. Arsenic is naturally found in soil and water, and rice plants tend to absorb it more readily than other food crops. According to the FDA, this occurs regardless of whether rice plants are grown conventionally or organically, and the agency reports that it is unaware of any data showing a difference in the amount of arsenic found in organic versus conventionally grown rice.
While there is some question about how arsenic accumulates in the body, long-term exposure to high levels is associated with higher rates of heart disease as well as skin, bladder and lung cancers. Children who get too much arsenic from food may have lower IQ and poorer intellectual function than other kids. We don't know, however, whether accumulations of small amounts of arsenic from rice and other foods over time will lead to long-term health consequences. The Dartmouth researchers noted that previous studies haven't examined childhood exposures to arsenic at doses equivalent to those found in the infant formulas they tested. They recommend switching to formulas that don't contain brown rice syrup.
Commenting on the other products tested, the researchers said that eating two to three large cereal or energy bars daily could add 10 ppb of inorganic arsenic to your diet. If you feel the need for nutrition or energy bars, I suggest choosing those that contain no added sugars at all, deriving their sweetness from whole, dried fruit.
Andrew Weil, M.D.
Source:
Brian P. Jackson et al, "Arsenic, Organic Foods and Brown Rice Syrup." Environmental Health Perspectives, May 2012,
DOI:10.1289/ehp.1104619