Does Eating Organic Prevent Cancer?
I've heard that eating organic (which I try to do) protects against cancer. Is this so?
Andrew Weil, M.D. | January 22, 2019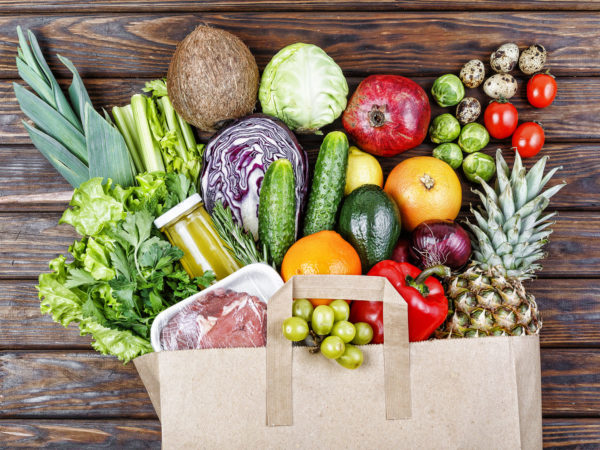 It is true that a study from France published in October (2018) found that people who routinely ate organic food had 25 percent fewer cancers than people who never ate that way. The French researchers followed nearly 69,000 adults, 78 percent of them women, for five years and reported that those who most frequently ate organic food had 76 percent fewer lymphomas and 34 percent fewer cases of postmenopausal breast cancer.
The study participants responded to online questionnaires that elicited detailed information on their food preferences, including fruits, vegetables, dairy and soy products, meat, fish and eggs, grains and legumes and cereals, flour, oils and condiments, wine, coffee, chocolate, sugar and dietary supplements. They provided this information for three 24-hour periods.
The researchers reported that study participants who most commonly ate organic foods were likely to be married, had higher income and more education than others in the study. They also consumed less red and processed meat and drank less alcohol.
Because this was an observational study, it shows only an association between eating organic foods and fewer cases of cancer. It does not show cause and effect.
Another investigation that looked at the health effects of eating organic came to somewhat different conclusions. Published in 2014, the British "Million Women Study" found no reduction in overall cancer risk among those who regularly ate organic. It did show, however, that women who reported eating organic food had a lower risk of non-Hodgkin's lymphoma but also had a slightly increased rate of breast cancer.
In an editorial accompanying publication of the French study in JAMA Internal Medicine, researchers from the Harvard T.H. Chan School of Public Health faulted the study authors for failing to test participants for levels of pesticide residues, which were assumed to be responsible for the higher rates of cancer among those who did not report eating organic foods.
The Harvard team called for more research in this area, "because cancer is a serious public health challenge and foods containing pesticide residues are widely consumed." If future studies yield more solid evidence linking consumption of organic foods to cancer prevention, they wrote, it will be crucial to lower costs so that everyone has equitable access to organic products.
As you know, I have long been a proponent of organic agriculture for many reasons, including the fact that more than 400 chemical pesticides are routinely used in conventional farming and residues often are present in non-organic food. We may not yet know for sure whether consuming organic food protects against cancer, but we do know that pesticides are harmful.
If price is an issue, consider what you pay for other types of food before rejecting organic varieties as too expensive. For example, the cost per pound may be quite reasonable when compared to that of some prepared foods.  You also might consider how to gain access to affordable organic, locally grown fruits and vegetables. Three options include joining a food cooperative, participating in neighborhood gardens, or enrolling in community-supported agriculture (CSA) programs.
Andrew Weil, M.D.
Source:
Julia Baudry et al, "Association of Frequency of Organic Food Consumption with Cancer Risk: Findings from the NutriNet-Santé Prospective Cohort Study." JAMA Internal Medicine, October 22, 2018, doi:10.1001/jamainternmed.2018.4357