Are Moscow Mules Dangerous?
I've heard that it is unsafe to drink Moscow Mules out of the copper mugs in which they're served. What's the problem, and do I have to worry about harm from the ones I've consumed in the past?
Andrew Weil, M.D. | October 13, 2017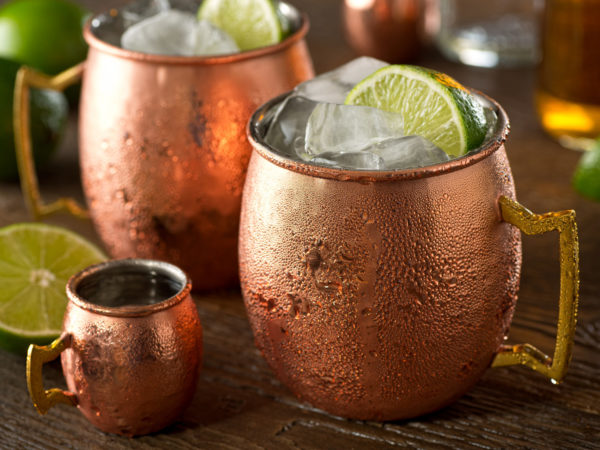 The Moscow Mule, a drink devised in 1941, has surged in popularity in the U.S. in recent years. It is a combination of vodka, limejuice, and ginger beer, usually served in a copper mug. Instead of vodka, some bartenders use Spanish brandy, bourbon or other spirits.
Concern about Moscow Mules stems from an advisory bulletin released in July 2017 by the Iowa Alcoholic Beverages Division about the copper mugs. It noted that Moscow Mules are acidic and that U.S. Food and Drug Administration (FDA) guidelines warn that when copper surfaces come into contact with acidic drinks, enough copper can be leached into the beverage to be toxic.
This news generated a number of alarmist headlines, but the fact is you probably won't be poisoned as a result of drinking Moscow Mules from copper mugs. According to the U.S. Centers for Disease Control and Prevention (CDC), no specific information is available regarding how many of these cocktails you would have to consume to develop a health problem. The amount of copper leached dependS on the acidity of the drink and the length of time it is in contact with the mug. If a Moscow Mule has a metallic taste, best not to drink it.
For the record, symptoms of copper poisoning include abdominal pain, diarrhea, vomiting and jaundice and in severe cases, liver failure and death. This resultS from long-term exposure to copper, not from drinking occasional Moscow Mules from copper mugs.
If you're concerned about your exposure to copper, you can be tested to measure levels of it in your blood. While the tests can show that you've been exposed to higher than normal copper levels, they can't predict the potential health effects.
If you don't want to give up drinking Moscow Mules, request that they be served in a glass or copper mugs lined with stainless steel.
Andrew Weil, M.D.
Source:
Iowa Alcoholic Beverages Division, "Use of Copper Mugs in the Serving of Alcoholic Beverages." July 28, 2017, abd.iowa.gov/sites/default/files/advisory_bulletin_-_use_of_copper_mugs_in_the_serving_of_alcoholic_beverages_-_july_28_2017.pdf