New Insights About Aging Well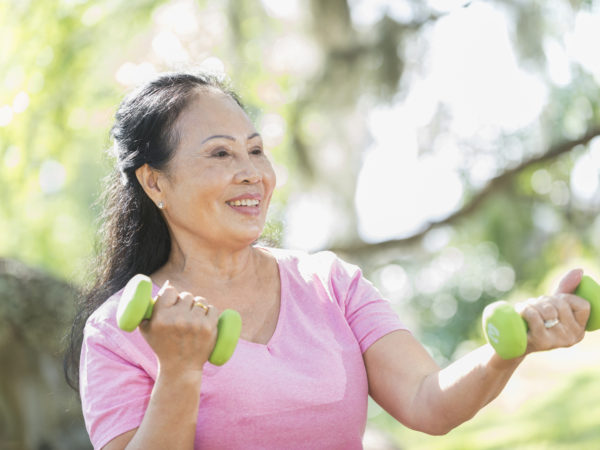 How can you avoid disability as you get older? One proven strategy is to stay strong physically, according to the results of a long-running survey of 30,434 Europeans and Israelis age 50 and older. These people were interviewed and examined every two years to update information about their health and social and economic status. The researchers repeatedly tested the participants' grip strength and asked them five times over the duration of the study how well they could do the following:
Walk 100 meters (328 feet)
Sit for approximately two hours
Get up from a chair after sitting for long periods
Climb several flights of stairs without resting
Climb one flight of stairs without resting, stooping, kneeling, or crouching
Reach or extend their arms above shoulder level
Pull or push large objects such as a living room chair
Lift or carry weights over 10 pounds
Pick up a small coin from a table.
Based on the information collected and their findings the researchers concluded that maintaining grip strength and protecting mental ability might help prevent or delay disability. They suggested that seniors who practice physical and mental training may be able to slow their physical decline and potentially prevent the loss of independence, reduced quality of life and development of depression and dementia as they get older.
My take? I've written previously about the predictive value of maintaining grip strength as we age. A study carried out in 17 countries that included 139,691 adults between the ages of 35 and 70 found that a decline of about 11 pounds in grip strength is linked to a 17 percent increased risk of dying from a heart attack or stroke over a four-year period. The researchers suggested that stronger grips signal more muscle mass, which is associated with increased activity and better health. As far as mental training is concerned, such routine habits as reading the newspaper and books as well as playing chess, going to the theater and other mentally engaging pursuits are worthwhile and beneficial mental workouts.
Source:
Tong Wang et al, "Weak Grip Strength and Cognition Predict Functional Limitation in Older Europeans." Journal of the American Geriatrics Society, October 25, 2018; DOI: 10.1111/jgs.15611
Also in this week's bulletin: