Can Supplements Help With PMS?
Are there natural treatments I can use to help relieve symptoms of premenstrual syndrome?
Andrew Weil, M.D. | October 4, 2022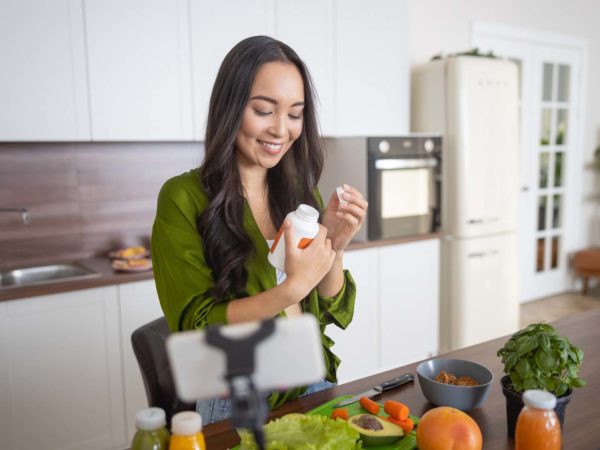 Premenstrual syndrome (PMS) refers to the symptoms experienced by some women shortly before their monthly period begins, sometimes extending a few days into menstruation. These may include breast tenderness, bloating, acne breakouts, irritability and mood swings, depression, and food cravings, among others. Although it's not clear why some women suffer from PMS, the hormonal changes that occur throughout the menstrual cycle are likely involved. In addition to lifestyle changes, there are some supplements that may help ease symptoms.
Calcium and vitamin D
One study of nearly 900 young women in Iran found that high doses of supplemental vitamin D reduced the prevalence of both PMS and dysmenorrhea (the excessive cramping and pain that sometimes accompany a period). Vitamin D is a hormone, not a vitamin, and it has been shown to improve the absorption of calcium. Separate studies have suggested that calcium levels tend to be low in women with PMS. I suggest calcium supplements of 500-700 mg a day for those with the condition. Many calcium supplements already include vitamin D to help with absorption; look for ones that provide D3 (cholecalciferol) rather than D2, and calcium as calcium citrate rather than calcium carbonate.
Magnesium and vitamin B6
A deficiency in magnesium has been associated with premenstrual symptoms.  One randomized study assigned women between the ages of 15 and 45 who reported experiencing PMS into three groups of 50. One group received supplementation with magnesium alone, a second group was given magnesium plus vitamin B6, and a third received a placebo. All three groups reported a decrease in PMS symptoms, with the placebo group showing the least improvement and the group who took both magnesium and vitamin B6 showing the greatest improvement.
Interestingly, one 2016 study reported that a combination of calcium and vitamin B6 worked better at reducing the severity of PMS symptoms than did B6 alone.
Vitex agnus castus (VAC)
Also known as chasteberry or chaste tree herb, VAC has several active compounds, some of which have an effect on the hormones involved with menstruation as well as on neurotransmitters and pain and inflammatory pathways. A 2017 review of multiple studies found some evidence that VAC is safe and effective for treating the symptoms of PMS. (Don't use VAC if you're on birth control pills or taking other hormones).
Other remedies
I also recommend considering evening primrose oil or black currant oil, the Chinese herb dong quai, and raspberry leaf tea.  Read my guide to premenstrual syndrome for more detailed information.
In addition, it's advisable to keep your blood sugar stable by eating small meals throughout the day. Get regular aerobic exercise; learn and practice a relaxation technique such as yoga, breathing exercises, and meditation; and avoid alcohol and caffeine.  (See more about alcohol and PMS.)
Andrew Weil, M.D.
Sources
Bahrami A, Avan A, Sadeghnia HR, Esmaeili H, Tayefi M, Ghasemi F, Nejati Salehkhani F, Arabpour-Dahoue M, Rastgar-Moghadam A, Ferns GA, Bahrami-Taghanaki H, Ghayour-Mobarhan M. "High dose vitamin D supplementation can improve menstrual problems, dysmenorrhea, and premenstrual syndrome in adolescents." Gynecol Endocrinol. 2018 Aug;34(8):659-663. doi: 10.1080/09513590.2017.1423466. Epub 2018 Feb 15. PMID: 29447494.  https://pubmed.ncbi.nlm.nih.gov/29447494/
Arab A, Rafie N, Askari G, Taghiabadi M. "Beneficial Role of Calcium in Premenstrual Syndrome: A Systematic Review of Current Literature." Int J Prev Med. 2020 Sep 22;11:156. doi: 10.4103/ijpvm.IJPVM_243_19. PMID: 33312465; PMCID: PMC7716601. https://pubmed.ncbi.nlm.nih.gov/33312465/
Parazzini F, Di Martino M, Pellegrino P. "Magnesium in the gynecological practice: a literature review." Magnes Res. 2017 Feb 1;30(1):1-7. English. doi: 10.1684/mrh.2017.0419. PMID: 28392498. https://pubmed.ncbi.nlm.nih.gov/28392498/
Cerqueira RO, Frey BN, Leclerc E, Brietzke E. "Vitex agnus castus for premenstrual syndrome and premenstrual dysphoric disorder: a systematic review." Archives of Women's Mental Health. 2017 Dec;20(6):713-719. doi: 10.1007/s00737-017-0791-0. Epub 2017 Oct 23. PMID: 29063202. https://pubmed.ncbi.nlm.nih.gov/29063202/
Fathizadeh N, Ebrahimi E, Valiani M, Tavakoli N, Yar MH. "Evaluating the effect of magnesium and magnesium plus vitamin B6 supplement on the severity of premenstrual syndrome." Iran J Nurs Midwifery Res. 2010 Dec;15(Suppl 1):401-5. PMID: 22069417; PMCID: PMC3208934. https://pubmed.ncbi.nlm.nih.gov/22069417/
Masoumi SZ, Ataollahi M, Oshvandi K. "Effect of Combined Use of Calcium and Vitamin B6 on Premenstrual Syndrome Symptoms: a Randomized Clinical Trial." J Caring Sci. 2016 Mar 1;5(1):67-73. doi: 10.15171/jcs.2016.007. PMID: 26989667; PMCID: PMC4794546. https://www.ncbi.nlm.nih.gov/pmc/articles/PMC4794546/