Weight And Prostate Cancer Risk?
I've heard that overweight men are at high risk of developing advanced prostate cancer. How much excess weight is too much?
Andrew Weil, M.D. | April 21, 2020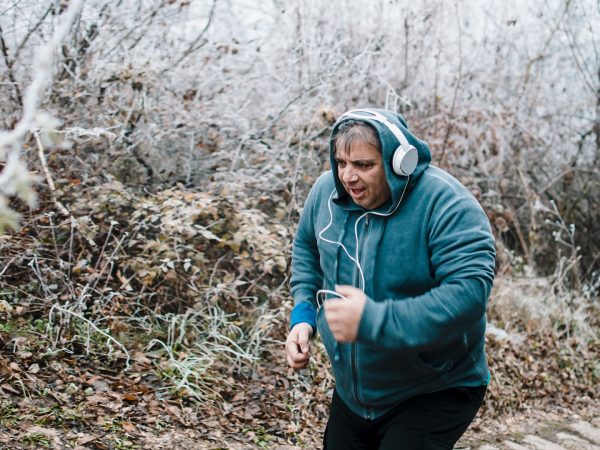 New findings suggest that men who are overweight in middle age and later in life are at higher than normal risk of advanced prostate cancer. Researchers arrived at this conclusion after looking at data on 830,772 men who participated in 15 large studies of prostate cancer risk. Of those, 51,734 had been diagnosed with the disease. Data showed that men between the ages of 50 to 64 whose body mass index (BMI) was above a healthy ratio were at high risk for developing advanced disease.
Adults with a BMI between 25 and 29.9 are considered overweight. Adults with a BMI of 30 or greater are considered obese. You can calculate your BMI by dividing weight (in kilograms) by height (in meters) squared. You can find an online BMI calculator here.
Prostate cancer is the second most common cause of cancer deaths among men (after lung cancer). According to the American Cancer Society, an estimated 191,930 new cases will be diagnosed in 2020 and 33,330 men with the disease will die. Prostate cancer is described as "advanced" when it has spread outside the prostate gland to nearby tissues, lymph nodes, bones or elsewhere in the body. Fewer than one in three men with advanced disease live five years beyond diagnosis.
The researchers noted that before their study only a few others had examined contributing factors to advanced prostate cancer, such as weight in early adulthood, weight changes during adulthood, and changes in waist circumference.
The new results show that risk for advanced prostate cancer can be decreased by maintaining a healthy weight in middle age and later life, which is in line with guidelines by the American Cancer Society and World Cancer Research Fund, according to lead study author, epidemiologist Jeanine Genkinger, Ph.D. of the Columbia University Mailman School of Public Health.
Her team also reported that greater waist circumference was associated with increased risk of advanced prostate cancer and death. They wrote that although other studies have linked a higher BMI with increased prostate cancer risk, theirs was the first to find a positive association with waist circumference.
Bear in mind that regular aerobic exercise is associated with a reduced risk of prostate cancer. In addition, here are some of my recommendations for lowering the risk of prostate cancer:
Take a daily multivitaminthat includes vitamins and antioxidants, especially selenium.
Eat little to no red meat and saturated fat.
Eat less dairy.High calcium intake from COW'S MILK products has been linked to prostate cancer.
Eat more vegetablesespecially tomatoes: Lycopene, a carotenoid found in tomatoes and watermelon, has been linked to a lower risk of prostate cancer.
Include soy foods regularly. They contain genistein, an isoflavone that helps normalize hormone levels and appears to be protective.
Eat fish at least once a week: It is associated with a lower risk of prostate cancer.
Eat more fiber: It helps reduce high levels of testosterone, which can have adverse effects on the prostate.
Drink green tea. EGCG, an antioxidant compound in tea kills prostate cancer cells in the test tube. Another compound in green tea blocks the actions of an enzyme that promotes prostate cancer.
Here's where you can learn more about prostate cancer and its symptoms, diagnosis and treatment.
Andrew Weil, M.D.
Source:
Jeanine M. Genkinger et al, "Measures of body fatness and height in early and mid-to-late adulthood and prostate cancer: risk and mortality in The Pooling Project of Prospective Studies of Diet and Cancer," Annals of Oncology, January 2020, DOI:  doi.org/10.1016/j.annonc.2019.09.007