Mammograms For Men?
I've heard that mammograms are being recommended for men. What's the chance of a man developing breast cancer? Do all men need mammograms?
Andrew Weil, M.D. | October 28, 2019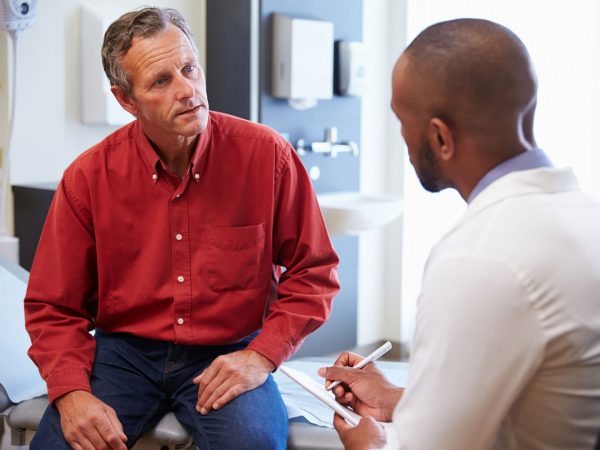 I'll answer your last question first: No, all men do not need mammograms, but a study published in September 2019 recommends these tests for men at high risk of breast cancer. While breast cancer is widely regarded as a disease of women, the American Cancer Society projects that in 2019, 2,670 men will be diagnosed with it and about 500 will die from it. What's more, the number of men who get breast cancer has increased; in 1991, only 900 men were diagnosed with it.
The risk of breast cancer in men is highest in those with genetic mutations associated with the disease, such as BRCA1 or BRCA2, which are linked to increased risk among women. Other risk factors are Ashkenazi Jewish ancestry or having close relatives who have been affected. Overall, the absolute risk for a man to develop breast cancer is one in 833 (compared to one in eight for a woman).
Mammograms for men at risk of breast cancer are not routine as they are for women, but results of a study published in September 2019 showed that they can detect the disease early in those at high-risk. Over a period of 12 years, 1,869 midlife men underwent mammography at New York University Langone Medical Center in New York City. The tests helped detect 2,304 breast lesions. Of these 149 were biopsied and 28 percent were found to be malignant. All told, the mammograms detected 18 cases of cancer per 1,000 tests in men – much higher than the rate of three to five cases per 1,000 of these tests in women of average risk. Study leader radiologist Yiming Gao, M.D. noted that the results show that mammography is effective in targeted screening of high-risk men and that "male breast cancer doesn't have to be diagnosed only when symptomatic." Dr. Gao also said that men have an advantage over women with mammography because, unlike women, their breast tissue generally isn't as dense, making it easier to see abnormalities.
Men at high risk should be aware of breast cancer symptoms, which include a painless lump or thickening in breast tissue, dimpling, puckering, redness or scaling in skin covering the breast, changes to the nipple – including redness, scaling or a nipple that begins to turn inward as well as discharge from a nipple.
Andrew Weil, M.D.
Source:
Yiming Gao et al, "Breast Cancer Screening in High-Risk Men: A 12-Year Longitudinal Observational Study of Male Breast Imaging Utilization and Outcomes." Radiology, September 17, 2019; 190971 DOI: 10.1148/radiol.2019190971