Is Yoga for Men?
I've been practicing yoga and meditation for some time and have been encouraging my husband to join me. He thinks it's for women, not men. Your thoughts?
Andrew Weil, M.D. | February 26, 2019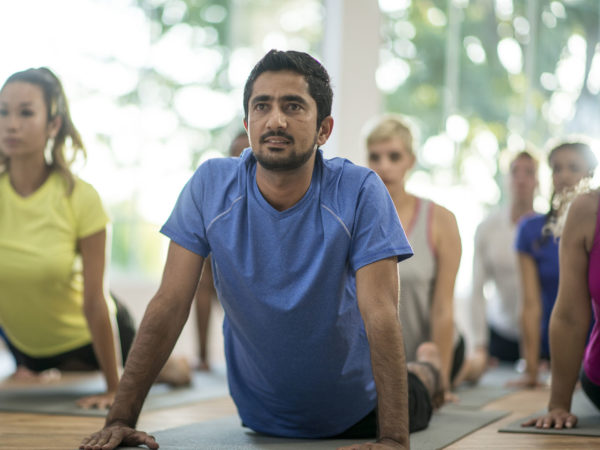 Results of a 2017 survey from the National Center for Health Statistics, published in November 2018, show that yoga and meditation are more popular than ever – for all genders.
The new findings showed that participation in yoga among adults age 18 or older increased from 9.5 percent in 2012 to 14.3 percent in 2017, while practicing meditation increased even more, tripling from 4.1 percent to 14.2 percent of the U.S. population from 2012 to 2017. It also found that women are twice as likely as men to practice yoga. In 2017 alone, 19.8 percent of women practiced yoga compared to 8.6 percent of men. The difference was less pronounced for meditation – 16.3 percent of women were doing it compared to 11.8 percent of men.
As you may have discovered, yoga is very effective for relaxation. Many of the postures (asanas) are intended to quiet the body and nervous system in order to facilitate concentration and meditation. In addition, yoga emphasizes breath work, which can relax you internally, improving heart function, blood pressure, circulation, and digestion. You may want to emphasize these benefits as well as your own positive experiences when you talk to your husband. Regardless of age, yoga can help lower blood pressure, strengthen bones, protect joints, improve strength and balance, and reduce anxiety.
The survey found that meditation was most popular among adults age 45-64, who comprise 15.9 percent of the population. Among those over 65, 13.4 percent of those surveyed reported meditating. It is gratifying to learn that the practice of meditation has more than tripled since 2012. People who meditate regularly may find that over time the practice yields many benefits, including restructuring of the mind that allows you to detach from thoughts that cause negative moods. It can help you do things more effectively – from cooking to writing to martial arts.
The survey was conducted via interviews in the homes of adults over the age of 18 by employees of the U.S. Census Bureau, with follow-up questions asked by telephone if needed. The participants weren't asked why they took up yoga or meditation. And we don't know if they primarily practiced yoga at home or in classes at yoga studios.
I hope some of these findings will help you persuade your husband to explore yoga and meditation. To begin with, he could try learning at home if he's reluctant to go to classes.
Andrew Weil, M.D.
Source:
Lindsay Black et al, "Use of Yoga, Meditation, and Chiropractors Among U.S. Adults Aged 18 and Over," National Center for Health Statistics, November 2018, cdc.gov/nchs/products/databriefs/db325.htm