Hot Flashes In Men?
What can you do about hot flashes in men? My husband has been going nuts with them. The flashes came on after androgen deprivation following prostate surgery and continue even though his doctor said they should have stopped by now.
Andrew Weil, M.D. | June 9, 2016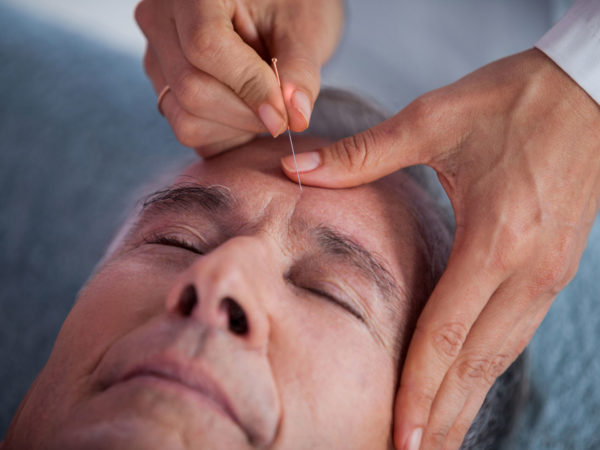 Originally published on November 19, 2015.
We generally think of hot flashes as a female problem precipitated by the drop in estrogen with menopause, but in fact hormonal changes can lead to the same symptoms in men, especially in those who have been treated for prostate cancer. Designed to prevent testosterone from stimulating the growth of prostate cancer cells, androgen deprivation therapy leads to hot flashes in 70 to 80 percent of men who receive it. While we don't understand exactly what sets off the flashes, they closely resemble the ones menopausal women experience – sudden warmth or flushing that is most intense in the head and trunk, often accompanied by profuse sweating. The flashes are most common at night but can occur six to 10 times a day or more and may be accompanied by anxiety, irritability or palpitations.
Temporary androgen deprivation in men usually results in hot flashes that end three or four months after treatment stops, although they may last much longer. Permanent androgen deprivation can set off hot flashes that continue for years.
Women experiencing hot flashes may choose to take hormone replacement therapy, the most reliable means of relief. Men who have been treated for prostate cancer don't have that option, since testosterone replacement can feed any remaining cancer cells.
The treatments that seem to work best for hot flashes in men are certain antidepressants, specifically selective serotonin reuptake inhibitors (SSRIs) such as paroxetine (Paxil) and venlafaxine (Effexor). A form of estrogen (estradiol) has been used to treat hot flashes in men but can cause breast swelling and tenderness, as well as possible cardiovascular effects.
Another female hormone, progesterone, can reduce hot flashes in men considerably but tends to cause bloating and weight gain and, in some cases, an often-distressing increase in prostate specific antigen (PSA) levels.
The anti-seizure drug gabapentin (Neurontin) also seems to help men with hot flashes but is more widely used in women. The most common side effect is dizziness.
A non-drug possibility is hypnotic relaxation therapy, which reduced hot flashes by 94 percent after seven weeks of treatment in a case study at Baylor University reported in 2014. But only one man was treated, and I haven't seen any follow up. However, the therapist who reported the case also wrote that hypnotic relaxation therapy reduces hot flashes by as much as 80 percent in postmenopausal women and breast cancer survivors.
Acupuncture has also been studied for the relief of hot flashes in both men and women. A Swedish review published in 2014 found that five to 12 weeks of treatment reduced hot flashes by more than 43 percent and that the benefit lasted for at least three months.
Andrew Weil, M.D.
Sources:
Hot Flashes in Men: An Update, Harvard Health Publications, accessed August 26, 2015, http://www.health.harvard.edu/mens-health/hot-flashes-in-men-an-update
Gary Elkins, et al, "Hypnotic relaxation therapy for treatment of hot flashes following prostate cancer surgery: a case study." International journal of clinical and experimental hypnosis, doi:10.1080/0027144.2014.901051