Does Ibuprofen Interfere With Male Fertility?
Is it true that taking ibuprofen can lead to infertility in men?
Andrew Weil, M.D. | June 1, 2018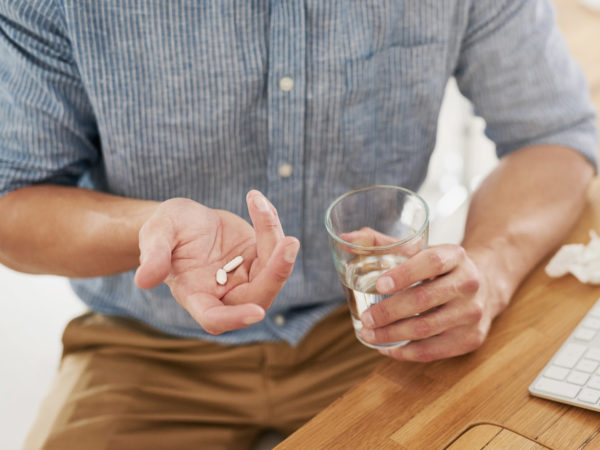 Ibuprofen is available over-the-counter, and in products like Advil and Motrin used to relieve pain. Some new evidence suggests that taking the maximum recommended dose of these medications daily for as little as two weeks can lead to hormonal changes that are unusual in young men but are more likely to develop – if at all – in midlife. In January 2018, a French and Danish research team published results of a small study showing that taking 1,200 mg of ibuprofen per day in two 600 mg doses can lead indirectly to decreased levels of testosterone and reduced fertility. The researchers noted that doctors often recommend that athletes take as much as twice that much to prevent or relieve pain.
For the study, the investigators recruited 31 volunteers between the ages of 18 and 35. They gave 14 of the young men two daily doses of 600 mg of ibuprofen and the others a placebo. Within two weeks, tests showed that a change in pituitary gland function resulted in decreased testosterone levels. This imbalance, known as "compensated hypogonadism," is a condition linked to impaired fertility, depression and an increased risk for cardiovascular events, including heart failure and stroke. It is reversible in young men who stop taking ibuprofen after a short time, but it is not yet known whether the hormonal effects of taking this amount of ibuprofen long-term are reversible.
We know that a number of other drugs are harmful to the male reproductive system. They include opioids, antidepressants, antipsychotics, immune modulators and Tagamet, a non-prescription antacid. We also know from earlier studies that men are responsible for up to 30 percent of the infertility couples experience and that over the four decades between 1973 and 2011 there appears to have been a 52.4 percent drop in sperm concentration among men in North America, Europe, Australia and New Zealand.
Earlier, the French and Danish team had examined the effects of aspirin, acetaminophen (Tylenol) and ibuprofen on the health of pregnant women and found that all 3 of these drugs affected the testicles of male babies born to them, increasing the risk of congenital malformations.
Men probably don't have to be concerned about the hormonal effects of ibuprofen unless they're using the maximum recommended doses frequently.
Andrew Weil, M.D.
Source:
Bernard Jégou et al, "Ibuprofen alters human testicular physiology to produce a state of compensated hypogonadism," Proceedings of the National Academy of Sciences, January 8, 2018, doi:10.1073/pnas.1715035115