Diet For Erectile Dysfunction?
Is it true that diet can affect the risk of developing erectile dysfunction? If so, what kind of diet works best?
Andrew Weil, M.D. | December 28, 2020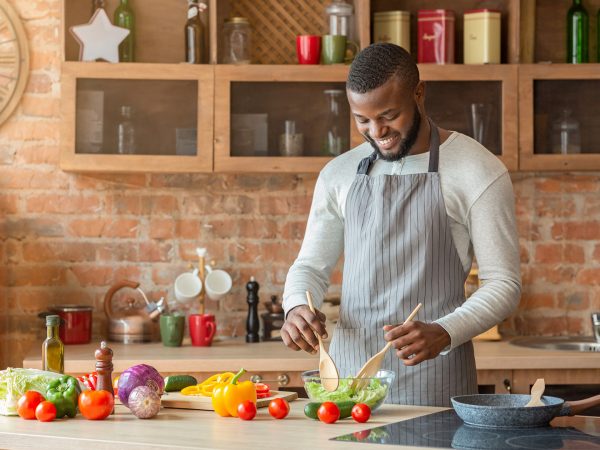 An estimated 18 million men in the U.S. age 20 and older are affected by erectile dysfunction (ED), the inability to achieve or maintain an erection sufficient for intercourse. Although ED becomes more common as men get older, it isn't considered a natural consequence of aging. Risk factors for this condition are similar to those that underlie heart disease – obesity, high blood pressure, smoking, diabetes and metabolic syndrome (a constellation of abnormalities that dramatically increase the risk of diabetes, heart disease, and stroke). Erectile dysfunction, especially in younger men, is often an early sign of cardiovascular disease.
New research that included 21,469 men found that adhering to the Mediterranean diet or the Alternative Healthy Eating Index 2010 diet (similar to the Mediterranean diet) is associated with a lower risk of developing ED. Both diets emphasize consumption of vegetables, fruits, nuts, legumes and fish as, well as avoidance of red and processed meats.
The men participating were U.S. male health professionals between the ages of 40 and 75 at enrollment. Men with ED, those who had heart attacks, diabetes, stroke, or genitourinary cancer were excluded.
Lead author, Scott R. Bauer, M.D., an assistant professor of medicine at the University of California at San Francisco, said the study was observational and the results need to be confirmed with randomized trials. But he noted that "men who want to maximize their erectile function should be aware of the possible contribution of diet in addition to other lifestyle factors."
The researchers reported that compared to the one-third of men under 60 who were least compliant with the diet, the one-third who were most compliant had a 22 percent lower risk of ED. The most compliant men aged 60 to 70 had an 18 percent reduced risk, and those age 70 and older had a seven percent reduced risk.
The researchers noted that other studies looking at links between diet and erectile dysfunction are limited and have focused on men with diabetes or prevalent ED.
Be aware that we've known for more than a decade that ED is a strong risk factor and possible warning sign for a future heart attack. Research from Johns Hopkins published in 2018 showed that ED indicates greater cardiovascular risk than previously thought, independent of such factors as cholesterol levels, smoking, or high blood pressure.
Cardiovascular disease and ED are similar in that both can stem from damage to blood vessels. (Less often, ED is psychological or emotional in nature or due to nerve damage.) Just as high blood pressure and high cholesterol can injure arteries that supply blood to the heart, they can injure the arteries that supply blood to the penis. An even more common cause of ED than arterial problems is penis venous leakage (leaky veins in the penis). Diabetes can damage both blood vessels and nerves involved in erections. Smoking, poor diet and lack of exercise can contribute to ED, just as they do to heart disease. In general, it is safe to assume that what's bad for the heart is also bad for a man's sexual health.
Andrew Weil, M.D.
Source:
Scott R. Bauer et al, "Association of Diet with Erectile Dysfunction Among Men in the Health Professionals Follow-up Study," JAMA Network Open. November 13, 2020, doi:10.1001/jamanetworkopen.2020.21701