Hearing Aid To Prevent Dementia?
I've been told that hearing loss is a risk factor for dementia. This is alarming news. My hearing isn't what it used to be. What should I do?
Andrew Weil, M.D. | September 10, 2019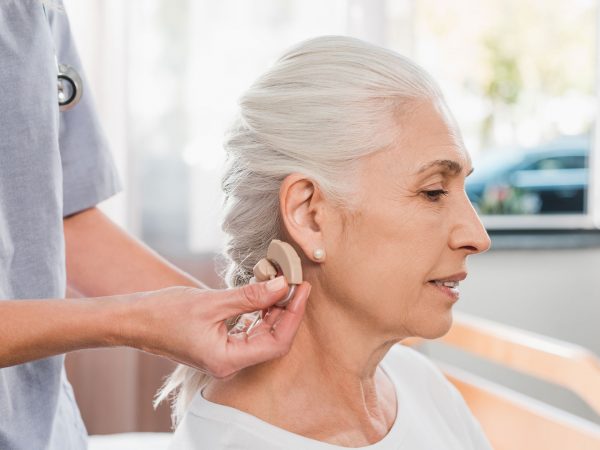 Hearing loss affects more than 45 percent of seniors over age 65 and more than 80 percent of those older than 85. Although it has been associated with increased risk of dementia, we don't yet know whether hearing loss is a cause of compromised mental functioning. A study published in 2013 found that individuals in their late 70s with hearing loss had a 30 to 40 percent accelerated rate of cognitive decline and a 24 percent increased risk for cognitive impairment during a six-year period compared with people of the same age with normal hearing.
There's also some good news on this issue. A study from the UK found that people who wear hearing aids for age-related hearing loss appear to maintain better brain function over time than those who don't use such devices. This research was conducted by investigators at the University of Exeter and King's College, London and involved 25,000 participants age 50 and older. Results showed that those who wore hearing aids maintained better cognitive function than those whose hearing was similar but weren't using hearing aids. In fact, brain function of the hearing aid users was like that of people eight years younger.
Both groups took annual cognitive tests for two years. These showed that the individuals who wore hearing aids had better working memory, attention, and reaction times than those who did not. The findings were presented in July (2019) at the Alzheimer's Association International Conference in Los Angeles. Study leader Anne Corbett Ph.D., of the University of Exeter, noted that previous research has shown that hearing loss is linked to a loss of brain function, memory and an increased risk of dementia. She added that a clinical trial is needed to confirm the finding that wearing a hearing aid really can help protect the brain.
One theory holds that to deal with hearing loss the brain may divert important resources from other areas in order to fully process and interpret auditory input. Another possibility is that hearing loss leads to social isolation, a known risk factor for dementia.
Andrew Weil, M.D.
Source:
Frank R. Lin et al, "Hearing Loss and Cognitive Decline in Older Adults," JAMA Internal Medicine, February 25, 2015, doi:10.1001/jamainternmed.2013.1868