Does Smiling Boost Mood?
I'm wondering if you can settle an argument. A friend insists that smiling, by itself, can make you happy. I think that's a myth. Your take?
Andrew Weil, M.D. | June 7, 2019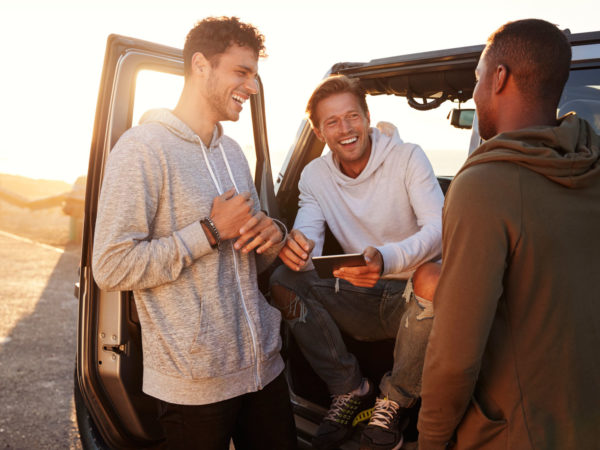 Considering that psychologists have disagreed on this subject for more than 100 years, chances are you and your friend may both be right. That said, the latest research does support the notion that smiling can make us feel a little happier.
After looking at nearly 50 years' worth of data from 138 studies with more than 11,000 participants from around the world, investigators at the University of Tennessee, Knoxville, concluded that facial expressions have a "small effect" on feelings and that intentionally smiling makes people feel happier. The research also showed that scowling makes people feel angrier and frowning makes them feel sadder.
Research team leader Nicholas Coles, a Ph.D. student, said the findings provide a clue about how the mind and body interact to shape our conscious experience of emotions, adding that "We don't think that people can smile their way to happiness." The study concluded that the influence of facial expression on a person's experience of emotion (the "facial feedback hypothesis") is "significant but small"
Another study from Penn State and the University at. Buffalo put a different spin on smiling. It looked at employees – particularly, waiters, waitresses, nurses and teachers – who force themselves to smile at work and found that "faked…positive emotions" appears to increase the risk of heavier drinking after work.
The study involved phone interviews with 1,592 workers conducted as part of the National Survey of Work Stress and Health, funded by the National Institutes of Health. The interviews elicited information about how often participants faked or suppressed emotions at work as well as how often and how much they drank afterward.
Study leader Alicia Grandey, Ph.D., a professor of psychology at Penn State, said "faking and suppressing emotions with customers was related to drinking beyond the stress of the job or feeling negatively." This research showed that the more these employees have to control negative emotions at work, the less they are able to control their alcohol intake afterward.
Dr. Grandey noted that nurses "may amplify or fake their emotions" because they're trying to comfort a patient or build a strong relationship. But, she added, an employee faking emotions for a customer they may never see again "may not be as rewarding and may ultimately be more draining or demanding." She suggested that "employers may want to reconsider 'service with a smile.'"
On balance, smiling may be more likely to benefit you than not in at least one way that may surprise you. A study from 2010 found that baseball players from 1952 whose baseball cards showed them with full-faced genuine smiles lived five to seven years longer than players who only partly smiled or didn't smile at all in their baseball card pictures.
Andrew Weil, M.D.
Sources:
Nicholas A. Coles et al, "A meta-analysis of the facial feedback literature: Effects of facial feedback on emotional experience are small and variable. Psychological Bulletin, April 11,  2019; DOI: 10.1037/bul0000194
Alicia Grandey et al, "When are fakers also drinkers? A self-control view of emotional labor and alcohol consumption among U.S. service workers," Journal of Occupational Health Psychology, March 4, 2019.