Can Lion's Mane Be Used To Help Improve Mood?
The mushroom is more commonly used for nerve growth, but does it work for mood disorders?
Andrew Weil, M.D. | December 2, 2022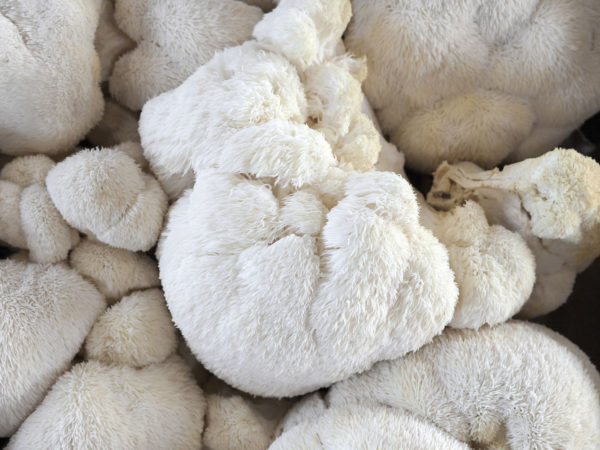 I'm an enthusiastic fan of mushrooms and believe strongly in their medicinal properties. Hericium erinaceus, commonly called lion's mane, is one of my favorites. Native to North America, Europe, and Asia, lion's mane can be used in cooking or taken as a supplement. It is believed to stimulate nerve growth, and there is some research suggesting it can be effective in nerve repair. It has also been shown to improve mild cognitive impairment, reduce anxiety, and enhance sleep.  Evidence of its benefits against depression is not as strong, but since it is completely non-toxic (and flavorful), there is no harm in trying it to improve mood.
Some research does support the benefits of microdosing with other species of mushrooms to improve mindset. Taking very small amounts of psilocybin-containing mushrooms, for example, has been studied for relief of depression and other mood disorders. Some people combine those microdoses with lion's mane, hoping for an increased effect. One recent study looked at more than 950 people who reported microdosing and found modest improvements in mood and mental health, but those who also used lion's mane had no better results than those who did not.
In another study, the brains of mice subjected to stress showed a decrease in the neurotransmitters norepinephrine, dopamine, and serotonin (which in humans correlate with symptoms of depression) and an increase in interleukin and tumor necrosis factor (which are associated with disease). Mice that were subjected to the same stress but had been given doses of lion's mane in advance, did not show those changes, leading researchers to conclude that lion's mane could have some potential for treating depressive disorders in humans.
Even without its potential for improving mood, lion's mane has several demonstrated health benefits, so I recommend considering it. Although I'd like to see more human studies examining whether it's effective against depression, its other benefits make it worth taking.
Learn more: 
Andrew Weil, M.D.
Sources
K. Mori et al "Improving effects of the mushroom Yamabushitake (Hericium erinaceus) on mild cognitive impairment: a double-blind placebo-controlled clinical trial." Phytotherapy Research March 2009. doi: 10.1002/ptr.2634.  pubmed.ncbi.nlm.nih.gov/18844328/
Rootman JM, Kiraga M, Kryskow P, Harvey K, Stamets P, Santos-Brault E, Kuypers KPC, Walsh Z. "Psilocybin microdosers demonstrate greater observed improvements in mood and mental health at one month relative to non-microdosing controls." Sci Rep. 2022 Jun 30;12(1):11091. doi: 10.1038/s41598-022-14512-3. Erratum in: Sci Rep. 2022 Jul 28;12(1):12925. PMID: 35773270; PMCID: PMC9246852. pubmed.ncbi.nlm.nih.gov/35773270/
Chiu CH, Chyau CC, Chen CC, Lee LY, Chen WP, Liu JL, Lin WH, Mong MC. "Erinacine A-Enriched Hericium erinaceus Mycelium Produces Antidepressant-Like Effects through Modulating BDNF/PI3K/Akt/GSK-3β Signaling in Mice." Int J Mol Sci. 2018 Jan 24;19(2):341. doi: 10.3390/ijms19020341. PMID: 29364170; PMCID: PMC5855563.  pubmed.ncbi.nlm.nih.gov/29364170/
Tripodi F, Falletta E, Leri M, Angeloni C, Beghelli D, Giusti L, Milanesi R, Sampaio-Marques B, Ludovico P, Goppa L, Rossi P, Savino E, Bucciantini M, Coccetti P. "Anti-Aging and Neuroprotective Properties of Grifola frondosa and Hericium erinaceus Extracts." Nutrients. 2022 Oct 18;14(20):4368. doi: 10.3390/nu14204368. PMID: 36297052; PMCID: PMC9611596. pubmed.ncbi.nlm.nih.gov/36297052/