Travel-Related Constipation?
Can you tell me why I become constipated when I travel and what, if anything, I can do about it? We eat healthily and exercise on the road as much as possible, but I always experience constipation.
Andrew Weil, M.D. | December 29, 2014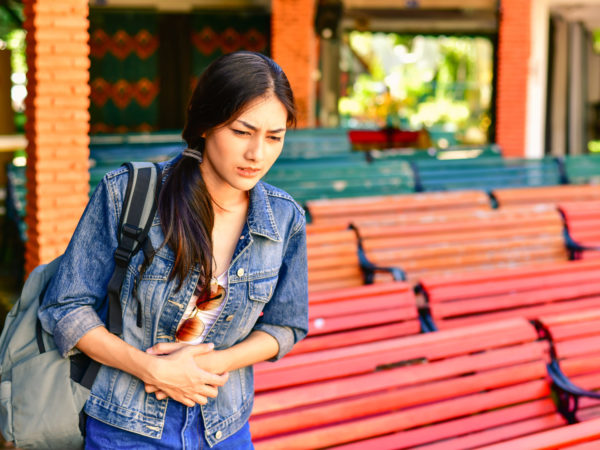 Travel-related constipation is a very common problem. As you might suspect, it stems from changes in your normal routine as well as from jet lag – your interior body clock doesn't always catch up immediately to local time when flying long distances. Changes in diet, the timing of meals and less-than-ideal access to restrooms can all play a role in traveler's constipation, as can the stress involved in making the adjustment.
For the record, constipation means having fewer than three bowel movements a week, with stools that are usually hard, dry, small and difficult to pass. It takes 40 to 45 hours for wastes from your food to make the trip through your gastrointestinal system and exit your body.
Dealing with travel-related constipation isn't that different from what you would do when you're at home. Dietary changes may mean that you're not getting enough fiber, which you can remedy by making sure that you eat lots of vegetables, whole grains, and fruit. Here are some other recommendations that can help:
Exercise daily. Exercise does more than tone your heart and muscles; it also tones your intestines and is essential to regular bowel movements.
Try relaxation techniques to deal with stress. Biofeedback is especially helpful, and breathing exercises or yoga can help you manage stress, which can interfere with relaxation of the whole body, including the bowels.
Don't ignore the urge to go. Peristalsis of the bowel – the movements that trigger a bowel movement – come and go. If you ignore the urge, you may lose the opportunity. The longer stool stays in the bowel, the harder it gets as more water is reabsorbed, and the more difficult it is to expel.
Watch your caffeine intake. Coffee and other forms of caffeine work well as laxatives when used occasionally. When used addictively, however, caffeine prevents the bowels from following their own natural rhythm. The use of other stimulants such as cocaine, amphetamines, ephedrine and pseudoephedrine can also result in constipation.
If you can't get enough fiber from your diet, consider powdered psyllium available at health food stores, as a supplemental source.
Drink at least eight glasses of water a day.
Try triphala. This Ayurvedic remedy for regulating the bowels is a combination of three fruits that tone the muscles in the large intestine. Ideally triphala should be used on a regular basis, however, and not just when temporary constipation occurs.
Andrew Weil, M.D.