L-Glutamine For Digestion?
There's a shop next to my gym that offers smoothies with L-glutamine, advertising that it's great for digestion, muscle recovery, and fat loss. Is this true? What else is L-glutamine good for?
Andrew Weil, M.D. | May 31, 2017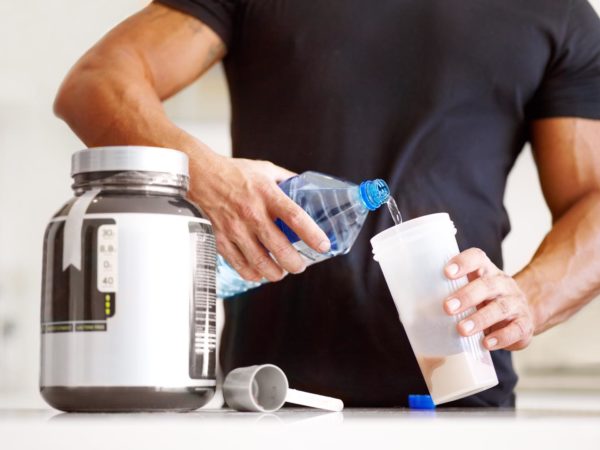 Glutamine is an amino acid produced in our bodies and then distributed to organs that need it, including the digestive system and the immune system. We also get glutamine from some foods: beef, pork, poultry, milk, yogurt, ricotta cheese, cottage cheese, raw spinach, raw parsley and cabbage. Although we routinely get enough of it for our usual needs, levels can decline as a result of injury, surgery, or infection. The stress from these leads to the release of high levels of the hormone cortisol, which lowers the body's glutamine stores. Under those circumstances, supplemental glutamine (also called L-glutamine) may be recommended.
L-glutamine is also used medically to counter the side effects of chemotherapy as well as those of a number of other treatments. And it can protect the immune system and digestive system in patients having radiation or chemotherapy for cancer of the esophagus.
Here's a rundown of the established uses for L-glutamine:
It may be recommended for HIV or AIDS patients who have lost a lot of weight, including muscle mass. Glutamine supplements combined with such nutrients as vitamin C and vitamin E, beta-carotene, selenium and N-acetylcysteine may help with weight gain and better absorption of nutrients.
Some evidence suggests that supplemental glutamine can help prevent the colds that commonly affect marathon runners and other athletes in the aftermath of endurance events. (No such effect has been seen in people who work out at less intensity. Nor is there evidence suggesting that glutamine improves athletic performance.)
Glutamine can help protect the lining of the gastrointestinal tract. While research continues, no studies so far have shown that it can reduce symptoms in people who have ulcerative colitis and Crohn's disease.
In addition, although claims on some products suggest benefits, there is not enough evidence to show that glutamine supplements are useful for treatment of depression, moodiness, irritability, anxiety, attention deficit-hyperactivity disorders, insomnia, stomach ulcers, sickle cell disease or
I asked Gerard Mullin, M.D., associate professor of medicine at Johns Hopkins University School of Medicine, and a specialist in gastroenterology, whether a smoothie containing L-glutamine could benefit digestion or muscle recovery or aid in fat loss. He says there's no truth to these claims.
Glutamine appears to be safe for adults in doses up to 40 grams daily. However, it could worsen cirrhosis of the liver and other severe liver disease. And if you're sensitive to MSG (monosodium glutamate), you also may be sensitive to glutamine, which the body converts to glutamate. Finally, glutamine might worsen seizures in susceptible people and interfere with anti-seizure drugs.
Andrew Weil, M.D.
Sources:
umm.edu/health/medical/altmed/supplement/glutamine
webmd.com/vitamins-supplements/ingredientmono-878-glutamine.aspx?activeingredientid=878