How To Get Out Of A Four-Month-Long COVID Fatigue?
I was sick with COVID-19 months ago and am fully recovered – except for fatigue I just can't seem to shake. What can I do to get out of this post-COVID slump?
Andrew Weil, M.D. | August 26, 2021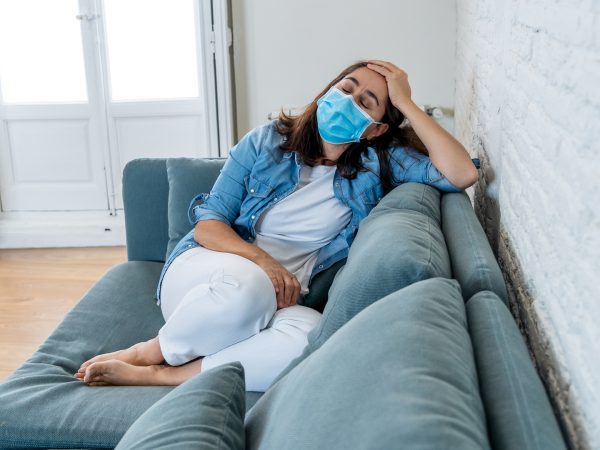 You are not fully recovered, and you are not alone. In one large meta-analysis of post-COVID symptoms in nearly 48,000 patients, about 80 percent reported difficulties that lingered anywhere from two weeks to several months after the acute phase of the illness. The most common long-term complaint was fatigue, with nearly 60 percent of recovered patients reporting it. Even though it's common, it is no less frustrating or exhausting. The best advice is to practice self-care while you wait for your body to achieve a true full recovery.
The phenomenon that has come to be known as "long Covid" or "long-haul Covid" has been documented in hundreds of scientific papers. There doesn't seem to be a correlation between severity of the illness and the likelihood of suffering long-term symptoms; many people who had mild cases of COVID-19 continue to have lingering issues in the following weeks and months. In addition to the all-too-common fatigue reported, symptoms include cognitive issues ("Covid fog"), headache, continued loss of taste and smell, and shortness of breath.
Long Covid is real, so listen to your body and follow these few suggestions:
Speak up. Tell your health care providers about your symptoms so they can rule out other problems and make sure your family and friends know about them, too. Ask for help if you need it.
Get enough sleep. That may sound obvious, but some people may try to "power through" their fatigue. Don't ignore the signs your body is giving you and be sure to get enough rest.
Eat well. Fatigue can be associated with loss of appetite, but your body needs good nutrition to recover.  Remember to follow an anti-inflammatory diet, easy on animal products and processed foods, and incorporating immune-boosting mushrooms (shitake, oyster mushrooms, maitake, and enoki) and herbs (Astragalus membranaceus, for example).
Relax. The continued fatigue may make you feel that you will never get well, and that may lead to anxiety, which doesn't help you recover. Practice mindful mediation, yoga, and other relaxation strategies to find calm.
Do what you can. Delegate or delay whatever you can, but be mindful that excess time in bed or on the couch can lead to a decrease in muscle mass and further weakness. Don't overdo it, and take breaks as needed, but be sure to do as much as you can to keep moving.
Some medical centers have started long-haul Covid recovery programs to support patients as they manage their fatigue, cognitive fog, and other symptoms. Look into programs near you and consider signing up to be sure you get the help you need.
Andrew Weil, M.D.
Sources:
Lopez-Leon S, Wegman-Ostrosky T, Perelman C, Sepulveda R, Rebolledo PA, Cuapio A, Villapol S. "More than 50 long-term effects of COVID-19: a systematic review and meta-analysis." Sci Rep. 2021 Aug 9;11(1):16144. doi: 10.1038/s41598-021-95565-8. PMID: 34373540; PMCID: PMC8352980. https://pubmed.ncbi.nlm.nih.gov/34373540/
Bell ML, Catalfamo CJ, Farland LV, Ernst KC, Jacobs ET, Klimentidis YC, Jehn M, Pogreba-Brown K. Post-acute sequelae of COVID-19 in a non-hospitalized cohort: Results from the Arizona CoVHORT. PLoS One. 2021 Aug 4;16(8):e0254347. doi: 10.1371/journal.pone.0254347. PMID: 34347785; PMCID: PMC8336814. https://pubmed.ncbi.nlm.nih.gov/34347785/
Srinivasan M. Taste Dysfunction and Long COVID-19. Front Cell Infect Microbiol. 2021 Jul 14;11:716563. doi: 10.3389/fcimb.2021.716563. PMID: 34336725; PMCID: PMC8317431. https://pubmed.ncbi.nlm.nih.gov/34336725/
Lombardo MDM, Foppiani A, Peretti GM, Mangiavini L, Battezzati A, Bertoli S, Martinelli Boneschi F, Zuccotti GV. Long-Term Coronavirus Disease 2019 Complications in Inpatients and Outpatients: A One-Year Follow-up Cohort Study. Open Forum Infect Dis. 2021 Jul 16;8(8):ofab384. doi: 10.1093/ofid/ofab384. PMID: 34386546; PMCID: PMC8344801. https://pubmed.ncbi.nlm.nih.gov/34386546/
Holdoway A. Addressing nutrition in the road map of recovery for those with long COVID-19. Br J Community Nurs. 2021 May 2;26(5):218-222. doi: 10.12968/bjcn.2021.26.5.218. PMID: 33939462. https://pubmed.ncbi.nlm.nih.gov/33939462/