Light At Night And Thyroid Cancer?
Is it true that exposure to light at night increases the risk of thyroid cancer? How much light is too much?
Andrew Weil, M.D. |March 8, 2021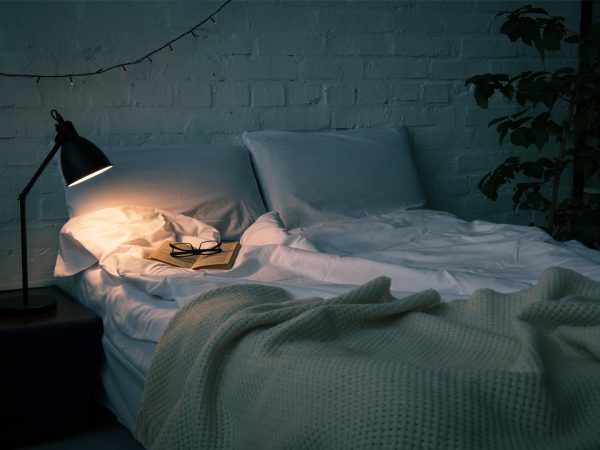 We've known for some time that exposure to light at night is associated with an increased risk of breast cancer. The link between light at night and thyroid cancer stems from a study by researchers at the University of Texas Health Science Center at Houston School of Public Health. They looked for an association between exposures to light at night and the disease among 464,371 men and women aged 50 to 71 who were participating in a long-running National Institutes of Health study.  Lead researcher, Qian Xiao, Ph.D., noted that because some breast cancers may share a common hormone-dependent basis with thyroid cancer, he and his team felt the investigation was warranted. To estimate levels of light at night at participants' homes, the researchers analyzed satellite imagery data. And to determine thyroid cancer diagnoses during the study they examined state cancer registry databases.
The participants were followed for an average of 12.8 years, during which 384 cases of thyroid cancer were diagnosed in men and 472 in women. Compared with the lowest quintile of light exposure at night, the highest quintile was associated with a 55 percent higher risk of developing the disease. This association was primarily driven by papillary thyroid cancer, the most common type. The correlation was more pronounced in women than in men, particularly for localized cancer with no sign of spread to other parts of the body. However, in men the association was stronger for more advanced stages of cancer.
Dr. Xiao noted that because study was observational and not designed to establish causality, "We don't know if higher levels of outdoor light at night lead to an elevated risk for thyroid cancer; however, given the well-established evidence supporting a role of light exposure at night and circadian disruption, we hope our study will motivate researchers to further examine the relationship between light at night and cancer, and other diseases." He wrote that recently some cities have made efforts to reduce light pollution, adding that "future studies should evaluate if and to what degree such efforts impact human health."
More resources:
Andrew Weil, M.D.
Source:
Qian Xiao et al. "Associations between artificial light at night and risk for thyroid cancer: a large U.S. cohort study." Cancer, February 8, 2021: doi.org/10.1002/cncr.33392