Do You Have A Drinking Problem?
I understand that more Americans than ever are drinking heavily. How much is too much, and at what point does drinking alcohol become a problem?
Andrew Weil, M.D. | November 18, 2022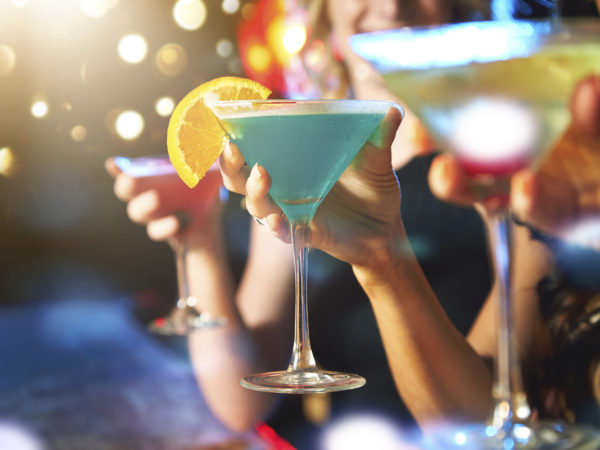 It's true that Americans are drinking more alcohol these days, with many of them drinking too much. It's a trend that started before the pandemic, but it's become more pronounced in these past few years. Whether someone is drinking to relax, to socialize, or to escape pandemic stress, there is generally little risk in one alcoholic beverage. When consumption becomes regular, or excessive, or both, there are significant risks to health.
How much is excessive? The USDA's "Dietary Guidelines for Americans, 2020-2025" recommends no more than two drinks for men and one for women on days when they drink, and less alcohol consumption is better.The National Institute on Alcohol Abuse and Alcoholism defines heavy drinking for a man as more than four drinks on any given day, or 14 total drinks in a week; for women, heavy drinking is defined as more than three drinks on any given day, or seven total drinks in a week.
In one study that looked at consumption just before and after the stay-at-home orders of March 2020, those who reported drinking alcohol in February consumed more drinks per day in April that year. A greater proportion also reported drinking more than the recommended limits. A RAND Corporation study of 1,540 adults in 2020 found a 14 percent increase in frequency of drinking overall, with a 41 percent increase in heavy drinking by women.
A modeling study published in the journal Hepatology based on just the first year of the pandemic predicted that the increase in alcohol consumption would result in more than 18,000 additional cases of cirrhosis and 8,000 additional deaths from alcohol-associated liver disease over the next 20 years. The longer the pandemic-fueled increases last, the study said, the larger those numbers could be.
This comes on top of earlier research, published in the summer of 2017, that found that more Americans than ever before were drinking alcohol, and worse, many were drinking to excess, particularly women, seniors, minorities, and people of low socioeconomic status. To arrive at this conclusion about the trend in alcohol consumption, the investigators conducted face-to-face interviews with about 40,000 individuals in 2001-2002 and again in 2010-2012. They found that alcohol use increased from 65 to 73 percent among the adults in the study and that high-risk drinking jumped by almost 30 percent during that period. High-risk drinking is defined as having four or more drinks for women and five or more for men on any day at least once a week.
In addition, the study found an increase of almost 50 percent in alcohol use disorder (AUD), severe problem drinking characterized in part by loss of control over alcohol intake. The researchers reported an 84 percent increase in AUD among women, 52 percent and 94 percent respectively for Hispanic and African-Americans and 105 percent among seniors.
The increases among seniors are particularly worrying. Study leader Bridget Grant, Ph.D., of the National Institute on Alcohol Abuse and Alcoholism noted that "the risk of falls (and) traumatic injury death in this group is already high" and that seniors tend to be on more medications, with which alcohol can interact.
All told, the investigators said their findings add up to a public health crisis that may have been overshadowed by increases in "much less prevalent substance use," including opioids. They added that the increase in alcohol consumption foretells a rise in the many health problems stemming from overuse. These include breast cancer, liver disease, high blood pressure, heart disease, and alcohol poisoning, as well as violence and motor vehicle accidents.
The Centers for Disease Control and Prevention estimate that more than 140,000 people each year die from excessive alcohol use in the U.S. – mostly from the accumulated effects of consumption that increase risk of cancer, liver disease, and heart disease, but also as a result of car crashes and other accidents. Alcohol is also implicated in a significant number of burns, drownings, falls, and assaults, and is a factor in about a million emergency department visits each year. One study that compared 2020 emergency department visits to 2018 and 2019 found alcohol-related visits were 7 percent to 24 percent higher in 2020 than they had been in the earlier period.
Whether you have a drinking problem is an important question to ask yourself, for both your short- and long-term health and safety. If you are drinking more than the recommended daily amount, or if you're drinking heavily even sometimes, you may want to reconsider your habits. For more information, read my overview of understanding alcoholism.
Andrew Weil, M.D.
Sources
Bridget F. Grant et al, "Prevalence of 12-Month Alcohol Use, High-Risk Drinking, and DSM-IV Alcohol Use Disorder in the United States, 2001-2002 to 2012-2013." JAMA Psychiatry, August 9, 2017   doi:10.1001/jamapsychiatry.2017.2161
Barbosa C, Cowell AJ, Dowd WN. "Alcohol Consumption in Response to the COVID-19 Pandemic in the United States." J Addict Med. 2021 Jul-Aug 01;15(4):341-344. doi: 10.1097/ADM.0000000000000767. PMID: 33105169; PMCID: PMC8327759. pubmed.ncbi.nlm.nih.gov/33105169/
Julien J, Ayer T, Tapper EB, Barbosa C, Dowd WN, Chhatwal J. "Effect of increased alcohol consumption during COVID-19 pandemic on alcohol-associated liver disease: A modeling study." Hepatology. 2022 Jun;75(6):1480-1490. doi: 10.1002/hep.32272. Epub 2022 Jan 24. PMID: 34878683; PMCID: PMC9015640. pubmed.ncbi.nlm.nih.gov/34878683/
Pollard MS, Tucker JS, Green HD. "Changes in Adult Alcohol Use and Consequences During the COVID-19 Pandemic in the US." JAMA Netw Open. 2020;3(9):e2022942. doi:10.1001/jamanetworkopen.2020.22942 https://jamanetwork.com/journals/jamanetworkopen/fullarticle/2770975
Marissa B. Esser, Nimi Idaikkadar, Aaron Kite-Powell, Craig Thomas, Kurt J. Greenlund, "Trends in emergency department visits related to acute alcohol consumption before and during the COVID-19 pandemic in the United States, 2018–2020," Drug and Alcohol Dependence Reports, Volume 3, 2022, 100049, ISSN 2772-7246, doi.org/10.1016/j.dadr.2022.100049.
Originally posted November 2017. Updated November 2022.