Can Physical Fitness Prevent Depression?
I've heard that being physically fit in midlife can prevent depression as you get older. Can you explain what one has to do with the other?
Andrew Weil, M.D. | September 27, 2018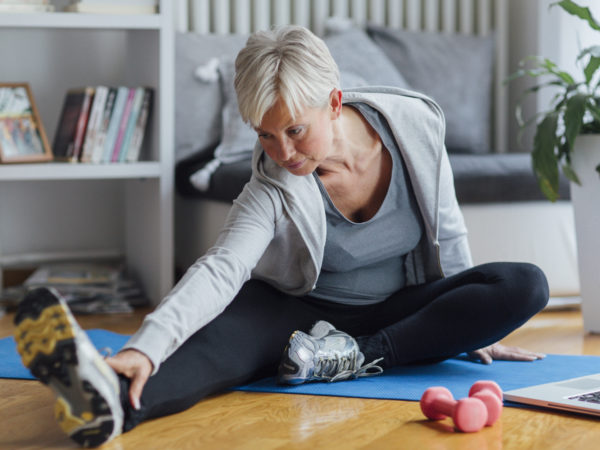 Physical fitness can yield many health benefits. There's no question that regular exercise helps protect against heart disease, and as you may know, I'm a big proponent of daily physical activity as a means of both preventing and treating mild to moderate depression. For immediate relief there is no better or more natural approach than aerobic exercise – many studies have demonstrated its reliability and efficacy. I recommend 30 minutes of continuous activity, at least five days a week for best results.
We also know that people with heart disease have a greater risk for depression and vice versa: depression can raise the risk of death after a heart attack later in life.
However, the newly found link between mid-life fitness and lower incidence of depression years later is not well understood, and neither is the well-documented risk of death from cardiovascular disease after depression has been diagnosed.
Research from the University of Texas Southwestern Medical Center published in June 2018 showed that a high level of fitness at midlife was linked to a lower risk of depression after age 65. Midlife fitness was also linked with a lower risk of death from cardiovascular disease among seniors, even when depression is diagnosed.
The researchers tracked 17,989 generally healthy adults whose average age was 50 from 1971 to 2009. They determined the study participants' aerobic fitness based on results of treadmill exercise tests. Incidence of depression was gathered from Medicare claims files. Information on those who died of heart disease came from the U.S. national death records.
Overall, 2,701 of the men and women followed were diagnosed with depression during the study and 841 participants died of cardiovascular disease. Midlife fitness was linked to lower rates of both depression and cardiovascular disease later in life. Participants who were most fit were 16 percent less likely to be diagnosed with depression and 61 percent less likely to develop cardiovascular disease without depression. The most fit individuals were also 56 percent less likely to die from cardiovascular disease even if they were diagnosed with depression as seniors. Because the study was observational in nature, it showed an association but did not prove cause-and-effect.
For the record, we also have evidence linking physical fitness at midlife with lower risks of dementia years later. Research from Sweden published in March 2018 found that midlife women who were highly physically fit were almost 90 percent less likely to develop dementia than women whose fitness was considered moderately good.
Andrew Weil, M.D.
Source:
Benjamin L. Willis et al, "Association of Midlife Cardiorespiratory Fitness With Incident Depression and Cardiovascular Death After Depression in Later Life." JAMA Psychiatry, June 27, 2018. doi:10.1001/jamapsychiatry.2018.1467