Diets To Avoid Depression?
I've heard that eating a healthy diet can help reduce depression. Can you tell me anything about this?
Andrew Weil, M.D. | October 26, 2019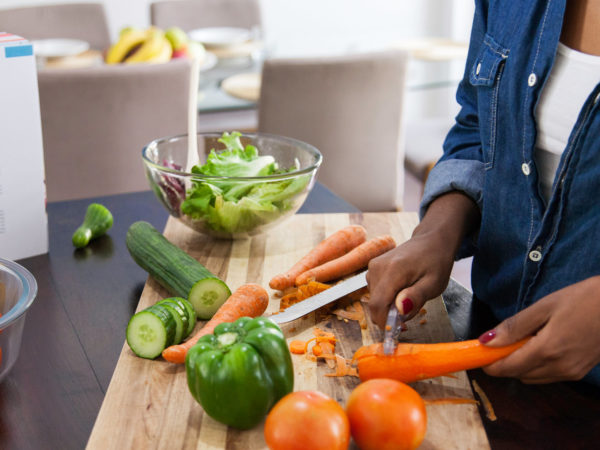 Some research does suggest that certain dietary habits can help prevent and control depression. The latest on this comes from an Australian study with university students between the ages of 17 and 35 who reported feeling depressed, along with a lack of motivation and decreased ability to feel pleasure. They described their diets as heavy in processed foods, sugar and saturated fats.
Researchers coached half of these young people to add fruit, vegetables, fish and olive oil to their diets and cut back on their consumption of processed foods. They also gave the students $60 each to pay for groceries and checked in with them by phone during the three weeks after the dietary changes. The other half of the study participants remained on their regular diets.
After three weeks, the students who ate healthier foods reported less anxiety and much better moods. Their scores on a scale measuring depression levels were normal, while those of the students who didn't change their diets remained in the "moderate-to-high" range. Lead study author Heather Francis, a lecturer in neuropsychology at Sydney's Macquarie University, noted that depression is associated with a chronic inflammatory response, "and poor diet both increases systemic inflammation and is also a risk factor for depression."
An earlier study from Chicago's Rush University Medical Center showed that depression rates seemed to be lower among seniors who followed the Dietary Approaches to Stop Hypertension (DASH) diet. It involves consuming more fruits, vegetables, whole grains, and low-fat dairy products than most Americans are accustomed to eating. It's low in saturated fat, total fat, and cholesterol, includes poultry, fish, and nuts, and reduces consumption of red meat, sweets and sugary beverages.
Researchers evaluated the study's 964 participants, whose average age was 81, for an average of six and a half years. They focused on seniors because depression is common in this demographic and occurs more frequently in those with memory problems, high blood pressure or high cholesterol, or a history of stroke. Those who followed the DASH diet most faithfully were 11 percent less likely to develop depression than those who didn't. And those whose eating habits most resembled a Western diet were more likely to become depressed. This study doesn't prove that the DASH diet reduces the risk of depression but does show an association.
Other research has found links between diets high in sugar and depression as well as lower rates of depression associated with the Mediterranean and traditional Japanese diets. And in general, vegetarians report better moods than omnivores.
Something else to consider: In my book Spontaneous Happiness, published in 2011, I wrote about the "cytokine theory of depression." Cytokines are proteins made by immune cells. They are the principal mediators of inflammation in response to foreign antigens and germs. Anything you can do to keep cytokines within their proper bounds will reduce the risks of chronic disease and may also lower the risk of depression. I find the cytokine hypothesis of depression compelling because it is consistent with my belief that doing everything we can to contain unnecessary inflammation is the best strategy for attaining optimum health. My anti-inflammatory diet is such an approach. It promotes foods that can help control inflammation, as well as the micronutrients and phytonutrients needed to protect your mind as well as your body.
Andrew Weil, M.D.
Sources:
Laurel Cherian et al, "Dietary Approaches to Stop Hypertension (DASH) Diet Associated with Lower Rates of Depression." Presentation scheduled for American Academy of Neurology, Annual Meeting, April 21-27, 2018
Heather M. Francis et al, "A brief diet intervention can reduce symptoms of depression in young adults – A randomized controlled trial." PLOS ONE, October 9, 2019, DOI: 10.1371/journal.pone.0222768