Can Weight Lifting Help Prevent Depression?
I know that aerobic exercise can help prevent depression, but I'm wondering if weight lifting has any such effect.
Andrew Weil, M.D. | August 23, 2018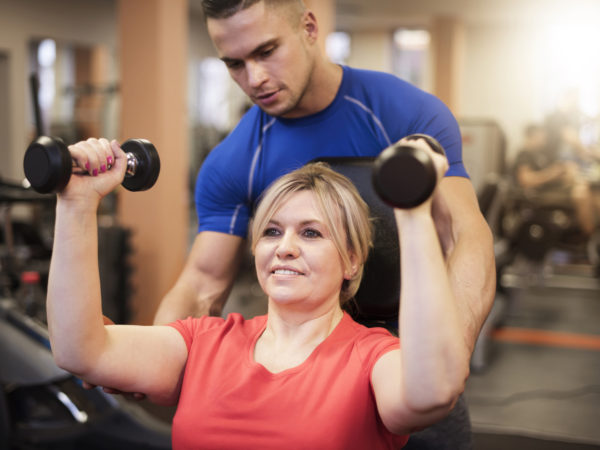 A strength or resistance training program using free weights or weight machines can strengthen and tone muscles, burn calories and increase bone density. Some research has shown that it also can slow brain changes associated with aging. And an investigation from Ireland's University of Limerick published in June 2018 found that weight training can reduce the symptoms of depression and possibly help prevent it.
The investigators looked at 33 studies of weight training that had randomized participants – some exercised and some were assigned to control groups that didn't work out. All 1,877 individuals participating in the studies were tested for depression when the studies began and again when they ended.
Results showed that resistance training consistently reduced symptoms of depression regardless of whether a participant had been affected at the outset. Participants who were not depressed to begin with were unlikely to have become depressed by the time the studies ended. This proved true no matter how much weight training they engaged in weekly, the amount of weight they lifted or how many repetitions of each exercise they performed. Furthermore, results were the same for both men and women regardless of age. The amount of strength participants gained during the studies also didn't matter.
Similar findings were published in 2017, when some members of the same University of Limerick team looked at the effect of strength training on anxiety. Here the researchers analyzed results of 16 earlier studies with a total of 922 participants who had been randomly assigned to work out with weights or not exercise at all. Those who performed resistance training exercised two to five days per week for an average of 11 weeks. Results showed a reduction of anxiety symptoms among members of this group whether or not they had been diagnosed with any mental health disorder. The effects were most pronounced in healthy people who had no physical or psychological problems. Lead author, Brett Gordon, a physical education and sports sciences researcher, said the effects of weight training on anxiety were comparable to those of medication and psychotherapy. (Aerobic activity also has been shown to reduce stress and anxiety.)
I know of no better method for immediate, symptomatic treatment of depression than regular aerobic exercise – walking, jogging, cycling or swimming. The efficacy of a daily workout for improving emotional health and boosting self-confidence is documented in numerous studies. I recommend 30 minutes of continuous activity, at least five days a week for best results. I also recommend that your exercise program include strength training whether or not you've been depressed.
Andrew Weil, M.D.
Source:
Brett R. Gordon et al "Association of Efficacy of Resistance Exercise Training With Depressive Symptoms: Meta-analysis and Meta-regression Analysis of Randomized Clinical Trials." JAMA Psychiatry, June 2018, doi:10.1001/jamapsychiatry.2018.0572