Should I Eat Freeze-Dried Fruits And Vegetables?
Is freeze-dried produce a reliable source of vitamins and minerals? Is it a healthy way to eat my fruits and vegetables?
Andrew Weil, M.D. | October 5, 2021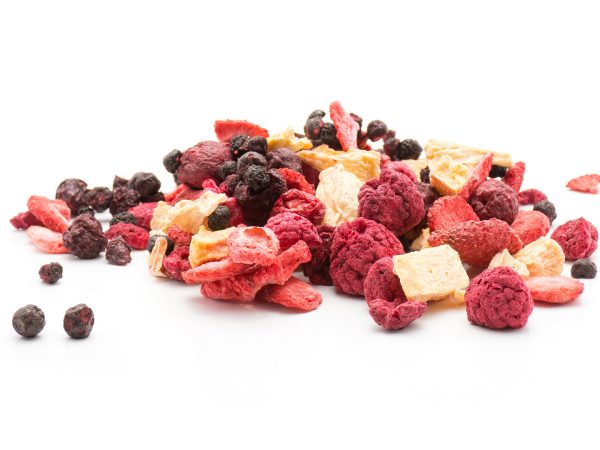 Dehydrated produce can be an acceptable alternative to fresh — especially if you're in a situation where perishability of fresh fruits and vegetables is an issue. Dehydration preserves many of the vitamins and antioxidants found in produce, with a few notable exceptions, such as water soluble nutrients, which are lost in the process.
In 2015, a team of scientists reviewed the existing research on the effects of freeze-drying on different fruits and veggies. They found that the nutrients conserved during freeze-drying varied. In general, the more water a fruit or vegetable starts out with, the more water-soluble nutrients it stands to lose during the dehydration process.
The study showed that strawberries, for instance, keep their vitamin C and phenolic acids — compounds that may fight cancer — after being freeze dried. However, strawberries also lose some of their anthocyanins, which are important antioxidants. Mangoes also keep most of their vitamin C, but their beta-carotene is reduced by 26 percent. Other nutritious freeze-dried produce includes carrots, which notably keep 95 percent of their carotenoids, and apples, which preserve 90 percent of their vitamin C.
This means that freeze-dried fruits and vegetables can still be an effective way to get your vitamins and minerals. But fresh produce will almost always be the best way to get the most nutritional value from your meals.
For instance, if you're watching your weight, removing the water from your foods may very well be counterproductive. Looking at a food's energy density — that is, the number of calories per unit of weight — is a reliable way to identify healthy food choices. The less water in a food, the more calories it has by weight, meaning its energy density is higher. Foods with more water and lower energy density, tend to keep us feeling fuller for longer.
A number of studies have shown that when people lower the energy density of their diets by eating more fresh fruits, vegetables, salads, soups and other water-rich foods, they naturally decrease their overall caloric intake. Incorporating more of these low-density foods into your diet can make snacks and meals more satisfying.
Barbara J. Rolls, Ph.D., is the director of the Laboratory for the Study of Human Ingestive Behavior at Penn State University. In a 2017 report, she explained how a food's energy density influences not only our stomach, but also affects our brain, hormonal balance, and other aspects of physiology. In other words, you won't just get a full stomach from consuming water-rich foods — your whole body's response will leave you satisfied on multiple levels.
Freeze-dried fruits and vegetables may be very reasonable options if you're a backpacker or an astronaut trying to get your nutrition while conserving the weight of your supplies. But if you have access to fresh produce, I'd recommend sticking with it.
Andrew Weil, M.D.
Sources:
Serna-Cock, L., D. P. Vargas-Munoz, and A. Ayala Aponte. 2015. Structural, physical, functional and nutraceutical changes of freeze-dried fruit. African Journal of Biotechnology. 14(6):442–450. https://www.researchgate.net/publication/275259819_Structural_physical_functional_and_nutraceutical_changes_of_freeze-dried_fruit
Rolls, B.J. 2017. Dietary energy density: Applying behavioural science to weight management. Nutrition Bulletin. 42(3)246–253. https://pubmed.ncbi.nlm.nih.gov/29151813/