A New Mediterranean Diet?
What can you tell me about the green Mediterranean diet?
Andrew Weil, M.D. | December 29, 2022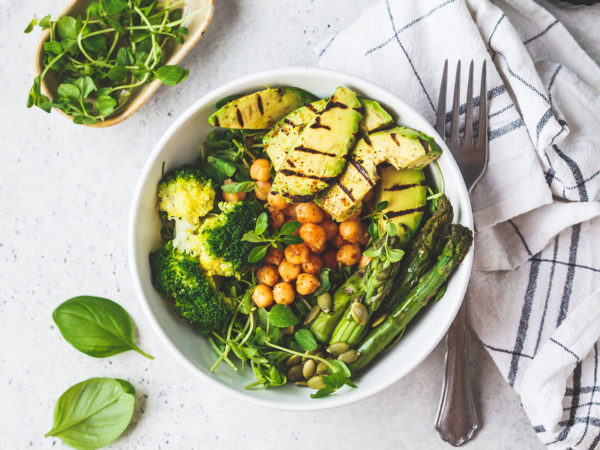 You may be familiar with the traditional Mediterranean diet. A composite of the traditional cuisines of Spain, southern France, Italy, Greece, Crete, and parts of the Middle East, it is a style of eating that emphasizes fruits and vegetables, some dairy products, olive oil and fish. Compared to the Western diet, it is linked to a lower risk of death from heart disease and cancer and lower risk of metabolic syndrome. Other documented benefits include improvements in brain function, lower rates of chronic diseases, decreased blood pressure, and reduced cholesterol.
The so-called "green" Mediterranean diet is a relatively recent spin on this classic. It encourages consuming no red meat and more plant-based protein. The green diet includes polyphenol-rich choices such as vegetables, legumes, whole soy foods, whole grains, green tea, nuts, and an aquatic plant called duckweed (Lemna minor). Duckweed is a common food in parts of Southeast Asia and a good source of plant-based protein. You can find it online and in some natural food stores in dried or powdered form that can be added to smoothies.
Some recent research supports the potential health benefits of the green Mediterranean diet. For example, a study published in the journal Heart looked at its effects in 294 sedentary and obese middle-aged people. The researchers split the participants into three groups: One followed the traditional Mediterranean diet, one followed the green Mediterranean diet, and one received basic diet and exercise guidelines. After six months, both groups following a Mediterranean diet lost weight, but those in the green Mediterranean diet group lost more belly fat and had greater decreases in LDL ("bad") cholesterol, blood pressure, insulin resistance, and C-reactive protein (a marker of inflammation).
Another study, published in BMC Medicine, found that the green Mediterranean diet promoted the loss of twice as much visceral fat — the harmful fat found deep in the belly, surrounding the abdominal organs — as the traditional Mediterranean diet.
Andrew Weil, M.D.
Source
Zelicha, H., Kloting, N., Kaplan, A. et al. The effect of high-polyphenol Mediterranean diet on visceral adiposity: the DIRECT PLUS randomized controlled trial. BMC Med 20, 327 (2022). doi.org/10.1186/s12916-022-02525-8