A Green Mediterranean Diet?
Can you tell me anything about the "green" Mediterranean diet? Is it healthier than the regular Mediterranean diet?
Andrew Weil, M.D. | January 5, 2021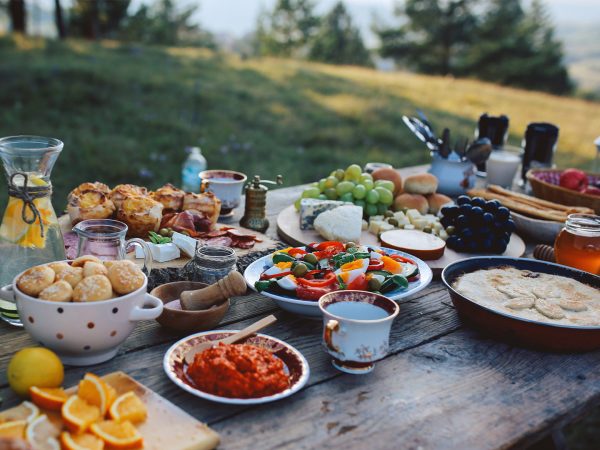 The green Mediterranean diet contains more food from plants and less meat or poultry than the standard Mediterranean diet. As you may know, the Mediterranean diet emphasizes fruits and vegetables, dairy products and fresh fish. It is associated with a lower risk of heart disease, stroke, and diabetes than the standard Western diet.
A study from researchers in Israel, Germany and the U.S. (looked at whether a version of this diet with more food from green plants and less red meat would be healthier than the standard one. To find out, they randomly assigned 294 sedentary and moderately obese people whose average age was 51 into three different dietary groups.
The first was given advice on increasing physical activity as well as information on the basics of a healthful diet. Those in the second group received the same advice on physical activity plus information on a diet that limited men to 1500 to 1800 calories daily and women to 1200 to 1400 daily calories. The diet was low in simple carbohydrates and rich in vegetables and included 28 grams per day of walnuts. Poultry and fish replaced red meat.
Members of the third group also were given information on physical activity plus advice on following a calorie-restricted green version of the Mediterranean diet, which included three to four cups of green tea daily and 100 grams of frozen cubes of a high-protein form of the aquatic plant duckweed served in a plant-based protein shake as a partial substitute for animal protein.
After six months, the researchers assessed the effect of each of the diets on weight loss as well as on the participants' cardiovascular and metabolic risk factors. They found that people on the green Mediterranean diet lost the most weight, about 13.5 pounds. Those on the regular Mediterranean diet lost just under 12 pounds, while those on the healthful diet lost only about 3.3 pounds. Waist circumference among those on the green Mediterranean diet dropped about 3.4 inches compared to 2.7 inches among those on the Mediterranean diet and roughly 1.7 inches among those on the healthful diet.
Those on the green Mediterranean diet also saw a four percent reduction in their low density (bad) cholesterol compared to about one percent among those on the regular Mediterranean diet and even less among those on the healthful diet.
The researchers concluded that cutting back on meat while increasing the amount of plant-based, protein-rich foods may yield greater health benefits and reduction of cardiovascular risk than the regular Mediterranean diet.  They cautioned, however, that only 35 women took part in the study and that they were unable to determine the specific factors in the green Mediterranean diet responsible for the benefits observed.
Andrew Weil, M.D.
Source:
Anat Yaskolka Meir et al, "The effect of green Mediterranean diet on cardiometabolic risk; a randomised controlled trial," BMJ Heart, November 23, 2020. doi: 10.1136/heartjnl-2020-317802