Consuming Collagen?
Can eating certain foods help increase collagen production?
Andrew Weil, M.D. | December 2, 2021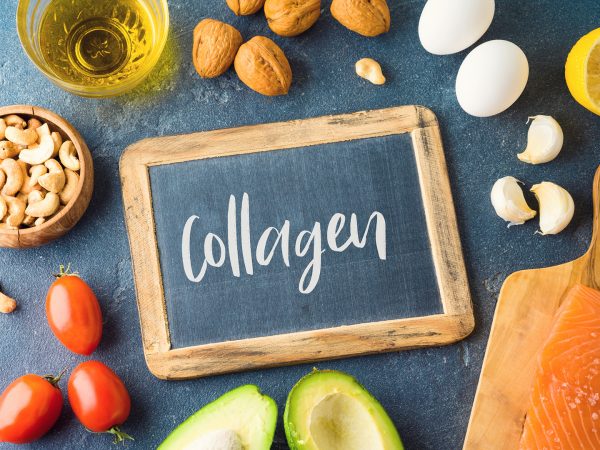 Collagen is the main protein in the human body — it gives our connective tissue, muscles, bones, tendons, and skin the necessary structure and strength to hold everything together. Indeed, the word "collagen" is derived from the Greek word for "glue. There are at least 16 different types of collagen, with type I accounting for 90 percent of that found in the body. In addition to providing structure, collagen helps keep our skin firm and supple. Our body produces less collagen as we get older, declining by about one percent every year once you reach age 40. Sun damage, smoking, exposure to pollution, and even fluctuations in weight can further decrease collagen production, leading to wrinkles and thinner, sagging skin.
This is likely why an entire industry of collagen supplements, powders, and other products has sprung up in recent years, promising "anti-aging" benefits, particularly for skin. The supplements may work for some to a minor degree, although they're unlikely to make a significant difference, and opinions among dermatologists seem mixed. (Prescription retinoids such as tretinoin address wrinkling by increasing the production of collagen).
Our bodies make procollagen — a precursor — from the amino acids glycine, lysine, and proline, a process aided by vitamin C and the mineral copper. Foods containing these specific micronutrients, including chicken, eggs, beans, and fruits and vegetables that contain high amounts of vitamin C, such as citrus fruits, tomatoes, berries, and bell peppers, may help boost collagen production.
Consuming more foods rich in collagen itself might also help, but the evidence is mixed. For example, bone broth — made by simmering animal bones in water to extract collagen — has grown in popularity; recent research suggests that it may not be a reliable source of this substance. Likewise, it may depend on the specific part of a protein that you consume: Although fish is noted to be a good source of marine-derived collagen, the eyes, scales, and head are richest in it — and considered unappetizing by many people.
I also think it's worth remembering that you can control some of the factors responsible for damaging collagen. In addition to smoking and sun damage, these include high consumption of sugar and other quick-digesting carbohydrates.
Andrew Weil, M.D.
Source:
Cleveland Clinic Health Essentials, "The best way you can get more collagen," May 15, 2018. https://health.clevelandclinic.org/the-best-way-you-can-get-more-collagen/