Fruit, Herb, & Vegetable Infused Waters: Good Or Bad?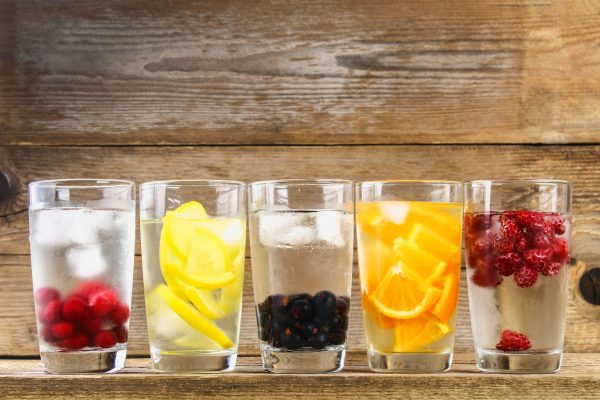 Years before commercially prepared drinks of fruit- or vegetable-infused water became popular, I recommended drinking warm water with lemon juice (one tablespoon of juice in eight ounces of water first thing in the morning to help with hydration after spending seven to eight hours without any water overnight.
Lemon may make water more palatable, but the key to fruit- or vegetable-infused drinks is the water, which is a basic and essential nutrient needed to maintain a healthy body, a clear mind, and a good balance within your tissues. About 60 percent of the body is water, and we must constantly replenish the supply, as it's continuously used in the processes of life. If you are among the many people who fail to drink the recommended eight 8-ounce glasses a day, I recommend consuming as much as you can and more than you think you need, whether you drink it plain or infused.
A key issue with commercially prepared versions of water infused with various combinations of fruit, vegetables or herbs is whether or not they're as good for you as advertised. Claims range from softer, smoother skin, better transport of nutrients and oxygen in your body, less strain on your organs, maintenance of optimal body temperature, less joint strain, more energy, better digestion and moods, to quicker recovery from exercise. I know of no research that backs up any of these claims.
Nevertheless, the market for commercial infused drinks is growing, principally in North America and partly in response to a (welcome) shift away from soda and other sweetened beverages.
Water And Weight
Research suggests that heavier people need to consume more fluids than slimmer individuals, although that fluid doesn't have to be plain water.
Some research indicates that drinking water before meals increases the chances of succeeding at weight loss, probably because it helps fill the stomach. We don't know, however, whether keeping hydrated will have a lasting effect on weight loss. Researchers at the University of Michigan have reported that obese individuals have higher needs for water than the non-obese, "because water needs depend upon metabolic rate, body surface area, and body weight." They also noted that poor hydration is associated with worsened physical, mental and emotional health and may affect how well individuals manage tasks requiring attention and good psychomotor and memory skills. Inadequate hydration also has been linked to worse moods, headaches and poor kidney function.
For adequate hydration, the U.S. Institute of Medicine recommends that men consume 125 ounces of water daily and women 91 ounces. Those numbers represent the combined total of water contained in all the food and beverages you consume. You can tell you're well hydrated if your urine is light in color. If it is dark, you need to drink more. (Keep in mind that if you take supplemental B vitamins, one of them – riboflavin, vitamin B2 – will color your urine bright yellow).
Infused Waters Worth A Try
Before the commercial advent of infused waters, I recommended the following two practices on this website.
Lemon water: No solid evidence supports claims that lemon water can boost metabolism or help with weight loss, but there is no downside to starting your day with it. Since we go about seven to eight hours without any water overnight, it's essential to drink some first thing in the morning to avoid dehydration. If you find water boring, try adding lemon juice. The vitamin C it provides can help repair and regenerate tissues and is essential for synthesis of collagen, the protein that is the chief component of skin. The scent of a lemon has been found to lower stress levels, improve moods, and reduce agitation. Likely any benefit to your weight will be due more to how you spend the rest of the day.
Cucumber water: You can add cucumber slices to plain water to make a pleasant, refreshing drink. However, any health benefits beyond those of plain water are minimal. Cucumber water is said to improve the appearance of skin, but I have seen no medical evidence for that. On the plus side, cucumbers are very low in calories and provide some vitamin C, beta-carotene, and manganese, plus a number of flavonoid antioxidants, including quercetin, apigenin, luteolin, and kaempferol. In animal studies, fresh cucumber extracts increase scavenging of free radicals and reduce inflammation, but those effects were seen with concentrated extracts, not slices of cucumber added to water. Tieraona Low Dog, M.D., an internationally recognized expert in the fields of integrative medicine, dietary supplements and women's health, and an authority on botanical medicine, views cucumber water as a pleasant way to increase water consumption. She combines cucumber and mint, adding one peeled, sliced cucumber and a few sprigs of mint to a pitcher of water and refrigerates it overnight. She also squeezes a little lime in it before drinking it.