Wild Ramps Pesto On Spaghetti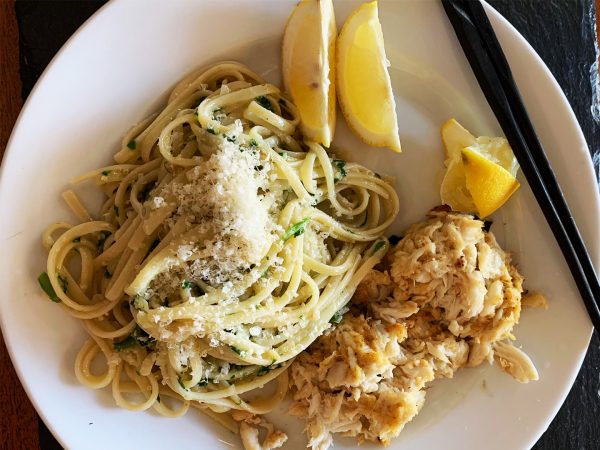 Nutrition
Serves 4
Calories (kcal) 630
Fat (g) 25
Saturated Fat (g) 11
Cholesterol (mg) 50
Carbohydrates (g) 86
Dietary Fiber (g) 5
Total Sugars (g) 8
Protein (g) 16
Recipe courtesy of Bon Appétit
A superb, early Spring twist on one of my favorite pasta dressings. Wild ramps have notes of onion and garlic that make it possible to prepare without added garlic. This produces a light and delicate version of the classic Italian pesto.
Ramps (Allium tricoccum) are a type of wild onion and grow all over the eastern part of Canada and the United States. Ramps were very popular in North American indigenous populations, and are still used in lots of rural areas in early spring. This wild leek has a strong taste of onion and a delicious garlic-like odor. They can be pickled, grilled, used in soups and stews, and like this recipe – pesto! (This recipe is a slightly modified variation of Bon Apettie's Spaghetti With Ramps recipe.)
Ingredients
4 ounces ramps, greens separated
salt
12 ounces spaghetti
1/4 cup walnuts, toasted
1/3 cup olive oil
2 tablespoons grated Parmigiano-Reggiano cheese, plus more for serving
Lemon wedges, for serving
Instructions
Blanch ramp greens in a large pot of boiling salted water until wilted, about 10 seconds. Using a slotted spoon or spider, transfer greens to a bowl of ice water; drain and squeeze out liquid.
Bring same water in pot to a boil again and cook spaghetti, stirring occasionally, until al dente; drain, reserving 1 cup pasta cooking liquid.
Meanwhile, coarsely chop ramp bulbs and stalks and walnuts in a food processor.
Add ramp greens, olive oil, and the cheese; process to a coarse paste. Season with salt.
Toss spaghetti and ½ cup cooking liquid with pesto, adding more cooking liquid as needed until pesto coats pasta. Serve topped with more grated cheese and with lemon wedges.