Sweet Potato Poblano Soup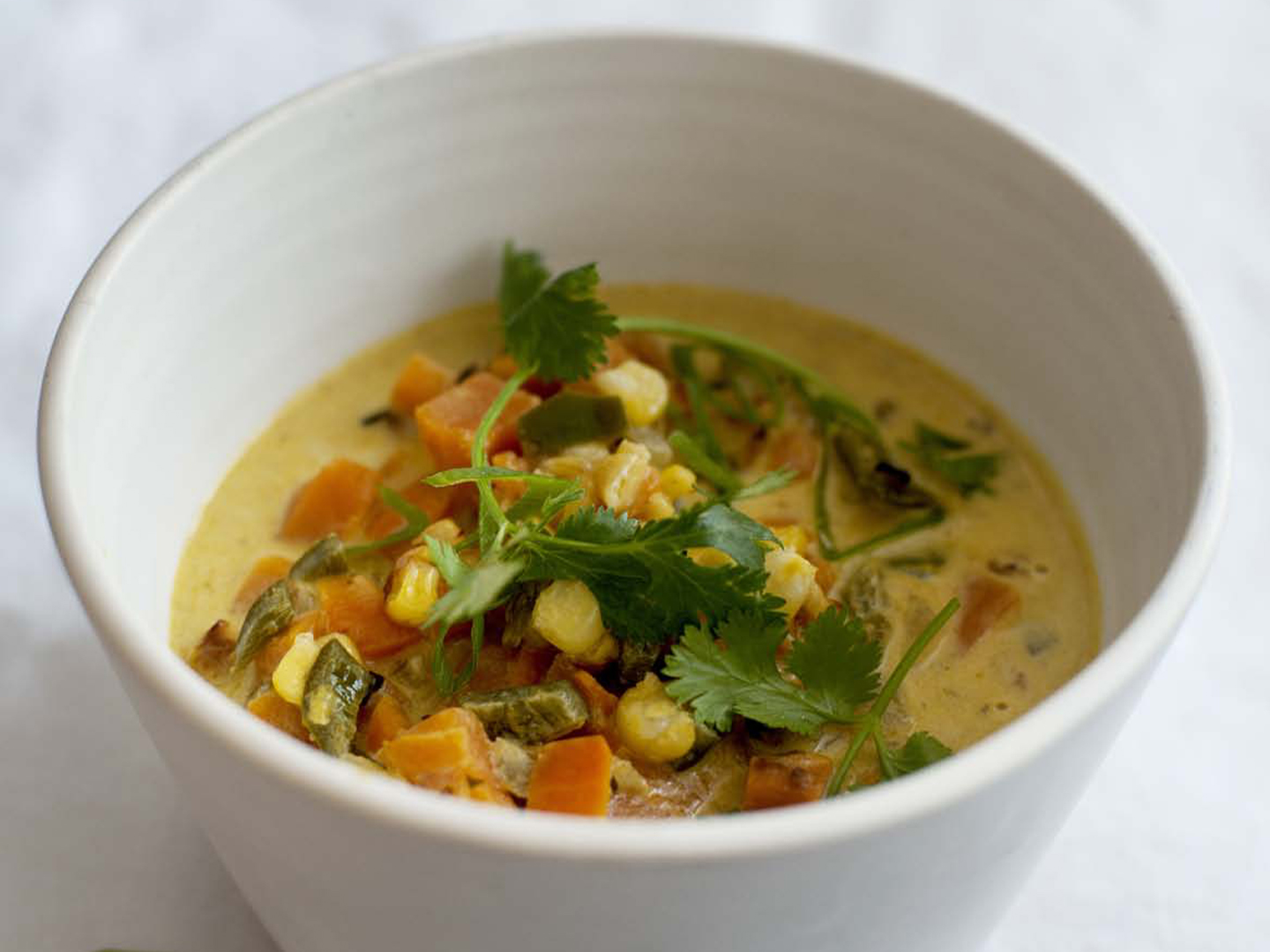 This tasty soup involves roasting your veggies for a deeper flavor, but it is still easy and quick to prepare.
Soups are ideal for serving nutrient-dense foods. I often just chop a bunch of vegetables up and simmer them in water or stock to make a flavorful vegetable broth. This tasty soup involves roasting for deeper flavor, but it is still easy and quick to prepare. Paying close attention to the seasonality of your main ingredients will drastically improve results.
Ingredients
1 large sweet potato, peeled and diced
1 small onion, diced
1/2 cup corn kernels, shaved from 1 ear of corn
1 small carrot, diced
1 small fennel bulb, diced
4 garlic cloves, mashed
1 poblano chile, seeded and diced
2 tablespoons extra-virgin olive oil
1 tablespoon chili powder
1 teaspoon ground cumin
1 teaspoon dried oregano
1/4 teaspoon cayenne pepper
1/2 teaspoon ground turmeric
1/2 teaspoon salt
1/2 teaspoon freshly ground
black pepper
1/2 cup white wine
1 (14-ounce) can light coconut milk
1⁄4 cup chopped fresh cilantro
2 or 3 scallions, thinly sliced
Instructions
Preheat the oven to broil. Line a baking pan with aluminum foil.
Toss the sweet potato, onion, corn, carrot, fennel, garlic, and poblano together in a large bowl.
Add the olive oil and toss to coat. Arrange the vegetables in a single layer in the prepared pan and broil for 5 to 7 minutes.
Remove the pan and toss the vegetables.
Cook for another 5 to 7 minutes, or until browned on top. Take care not to burn the vegetables.
Transfer the vegetables to a large pot. Stir in the chili powder, cumin, oregano, cayenne, turmeric, salt, pepper, wine, and 3 quarts water.
Bring to a simmer over medium-high heat. Reduce the heat and simmer the soup for 45 minutes.
Remove the soup from the heat and whisk in the coconut milk.
Ladle the soup into bowls and garnish with the cilantro and scallions before serving.