Scallops With Kale Pesto & Feta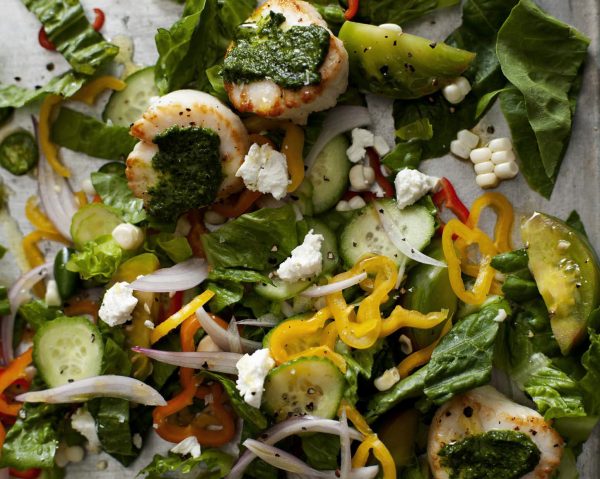 This salad features a satisfying mix of vegetables and protein. It will fill you up but leave you light on your feet. The emerald green kale pesto provides a striking color contrast.
Love a little seafood? Dr. Weil shares his simple kitchen technique for perfectly seared scallops. Serve these delightful seared scallops with our tangy kale pesto dressing – they are tender and flavorful with a lightly caramelized crust.
Ingredients
3 tablespoons extra-virgin olive oil
16 sea scallops
Salt and freshly ground black pepper
4 medium tomatoes, cut into bite-size chunks
3 bell peppers (red, yellow, and orange), seeded and thinly sliced
2 cups corn kernels, shaved from 2 ears corn
1 cucumber, peeled, seeded (if seeds are mature), and thinly sliced
1 jalapeño chile, seeded and thinly sliced
1 shallot, thinly sliced
1/4 cup extra-virgin olive oil
3 tablespoons champagne vinegar
1/2 cup Kale Pesto (recipe here)
4 ounces mild, soft goat cheese (like feta), crumbled
Instructions
Heat the olive oil in a non-stick skillet over medium-high heat until it shimmers.
Season the scallops with salt and pepper.
Sear the scallops on both sides for 1 to 2 minutes, but don't overcook.
Transfer to a platter.
In a large bowl, combine the tomatoes, bell peppers, corn, cucumber, jalapeño, and shallot.
Drizzle the oil and vinegar over them, season with salt and pepper, and toss.
Divide among serving plates.
Add the scallops and garnish each scallop with about a teaspoon of the Kale Pesto.
Sprinkle on the goat cheese before serving.